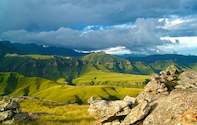 The scenic uKhahlamba Drakensberg Park in KwaZulu-Natal, South Africa, is two hours from Durban and offers world renowned San (bushmen) rock art and great hiking trails.
Situated just 2 hours from Durban and 4 hours from Gauteng, the uKhahlamba Drakensberg Park, KwaZulu-Natal, South Africa, is home to an abundance of flora and fauna, with many endemic and endangered species. San rock art paintings found in around 500 ancient caves and rock shelters form one of the highest concentrations in Africa.
There are about 600 San rock art sites, together representing 35 000 individual images, with the oldest rock painting dating back to 4000 years ago and the recent going back to the nineteenth century. This 243 000 hectare Drakensberg nature reserve in South Africa is home to the Black Eagle, Bearded Vulture, herds of Eland and an abundance of other indigenous animals and plants.
The mountains uKhahlamba Drakensberg Park, KwaZulu-Natal, South Africa exceed an average altitude of 3000 metres, forming the highest range south of Kilimanjaro. The highest peak reaches an altitude of 3482 metres. The Drakensberg experiences hot summer days and refreshingly cool evenings. However, winters are extremely cold, sometimes with heavy snowfalls.
Climbers and hikers in the Drakensberg and even those just going for a walk in any of the Drakensberg Mountain reserves must sign the Mountain Rescue Register upon entering the reserve. This is a safety precaution which also makes it easier and faster for the rescue team to locate visitors should a problem occur.
Distances to uKhahlamba Drakensberg Park, KwaZulu-Natal, South Africa
GPS Coordinates: lat. 29d16'12.2; long. 29d31'11.8
Estcourt - Durban 165km / 103 miles (King Shaka International Airport, the closest major airport, is a 3 hour rive from the Drakensberg)
Estcourt - Johannesburg: 423km / 263 miles
Underberg - Durban: 199km / 124 miles
Underberg - Johannesburg: 642km / 399 miles
Directions from King Shaka International Airport
Turn off the N3 at Nottingham Road/Mount West, travel through Nottingham Road to Rosetta and take the Kamberg turnoff. Travel straight pass Kamberg turnoff (left) and follow the signs to Giants Castle.