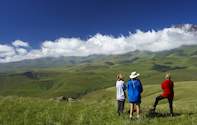 © Roger de la Harpe
Visitors of all ages can enjoy uKhahlamba Drakensberg activities like scenic walks, fishing and swimming in crystal clear rivers or visiting the Rock Art Centres.
For a taste of real adventure on an uKhahlamba Drakensberg holiday, guests can hike and bike or go rock climbing as well as fly fishing in pristine areas. Painting, relaxing and viewing San Rock Art in magnificent scenery can be enjoyed by all ages. The cool mountain streams and rivers are a delight for refreshing dips in the heat of the day.
All camps in this World Heritage Site have well laid out day walks for all to enjoy. The uKhahlamba Drakensberg Park offers wonderful photographic opportunities and visitors can return again and again to capture its beauty in different seasons and times of day. Guests could also capture images of the Black Eagle, Bearded Vulture and herds of Eland antelope amongst many other indigenous plants, birds and game.
One of the top activities at this South African nature reserve in KwaZulu-Natal is hiking in the Drakensberg. The mountains have an extensive network of trails. In some areas, hikers may not see another person at all during their trail, adding to the intense atmosphere of solitude and contemplation that many trail blazers enjoy.
One of the most popular hikes is the Giants Cup Hiking Trail which takes place over 5 days in the scenic foothills around Cobham. Trails can be found in Cathedral Peak, Garden Castle, Giant's Castle, Highmoor, Injisuthi, Kamberg, Lotheni, Mkhomazi, Monks Cowl, Royal Natal National Park and Vergelegen.
Ancient San (bushmen) rock art can be seen in around 500 sites in the Drakensberg. Guided Walks to some rock art shelters can be booked at Giants Castle, Injisuthi, Kamberg, Cathedral Peak and Royal Natal. Rock Art Interpretive Centres can be found at Kamberg and Cathedral Peak (Didima Camp has an interactive show in a huge rock overhang).
Activities at ukhahlamba Drakensberg Park in South Africa
Conferencing and weddings in the Drakensberg
Walking, hiking, mountain biking and horse riding
Fly fishing, boating and swimming
Bird-watching and San rock art viewing