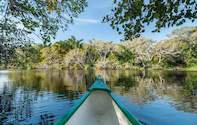 © Justin Fox
iSimangaliso means miracle and wonder which aptly describes this exceptional KwaZulu-Natal Wetland Park on the Zululand coast.
Accommodation: Self-catering tents and cabins, cottages, private lodge
Activities: Birding, boat cruises, fishing, game viewing, hiking, whale watching, scuba diving, kayaking, horse riding
Highlights: World Heritage Site, Game viewing, Diving, turtle tracking
A World Heritage Site, iSimangaliso Wetland Park (the former Greater St. Lucia Wetlands Park) incorporates an astonishing variety of habitats from the Ubombo Mountains to grasslands, forests, wetlands, mangroves and ancient dunes, magnificent beaches and coral reefs. This awesome KwaZulu-Natal Wetland Park stretches along the Zululand coast from Maphelane in the south to Kosi Bay in the north, on the Mozambique border.
Covering 220km (137 miles) of coastline, this KwaZulu-Natal Wetland Park brings together eight inter-locking ecosystems and ten unique destinations: Maphelane, Lake St. Lucia/St. Lucia Estuary, Cape Vidal and the Eastern Shores, Charters Creek and the Western Shores, False Bay, Sodwana Bay, uMkhuze, Lake Sibaya, Coastal Forest and Kosi Bay.
A very special slice of Africa, the iSimangaliso Wetland Park offers eco-tourists some of the most diverse African wildlife and outdoor experiences imaginable. The variety of fauna and flora is unique. Four wetland sites within the park are Ramsar sites (wetlands of international importance). iSimangaliso Wetlands Park in KwaZulu-Natal protects rare swamp forests, Africa's largest estuary and some of the world's highest coastal vegetated dunes, which are 25 000 years old.
"iSimangaliso must be the only place on the globe where the oldest land mammal (the Rhinoceros) and the world's biggest terrestrial mammal (the Elephant) share an ecosystem with the world's oldest fish (the Coelacanth) and the world's biggest marine mammal (the Whale)" - Nelson Mandela. iSimangaliso Wetland Park offers Turtle Tours and Turtle Tracking on the Cape Vidal and Kosi Bay beach during summer. You might be lucky to spot Loggerhead and Leatherback Turtle hatchlings.