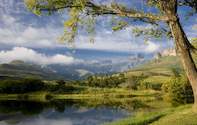 © Roger de la Harpe
Royal Natal National Park is renowned for its spectacular scenery and fabulous mountain trails which explore the heart of this KwaZulu-Natal nature reserve in South Africa.
Accommodation: Lodge, Cottages, Chalets
Activities: Hiking, horse riding, fishing, swimming, climbing
Highlights: The Amphitheatre and beautiful scenery; see the Bearded Vulture (Lammergeyer) and Black Eagle
Your Royal Natal National Park Experience
This leading KwaZulu-Natal nature reserve in South Africa offers wonderfully scenic views, lofty mountains and waterfalls in a prime location within the uKhahlamba Drakensberg Park. There are many trails to explore on foot and on horseback with a comprehensive guidebook available for visitors. Walkers and hikers can enjoy short journeys which take about an hour, or longer excursions over a half or full day. The Mont-aux-Sources hike takes two days to complete.
The main feature of this KwaZulu-Natal nature reserve in South Africa is the world famous Drakensberg Amphitheatre, a rock wall 5km (3 miles) long and 500 metres (546 yards) high. Standing above the rock face is Mont-aux-Sources peak where the Orange River starts its incredible journey west across South Africa to the Atlantic Ocean. The Thukela (Tugela) River cascades down the face of the Amphitheatre, forming one of the highest waterfalls in the world as it travels east to the Indian Ocean.
The Royal Natal National Park in KwaZulu-Natal, South Africa offers accommodation at Thendele Lodge and cottage or chalets at Thendele Camp. From horse back, visitors can cover plenty of ground and travel into the mountains for stirring views and sightings of resident wildlife. Another popular activity at this national park in South Africa is hiking in the Drakensberg Mountains.