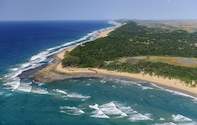 © Jacques Marais
Welcome to unspoiled coastal beauty at its best! Set within the iSimangaliso Wetland Park, the Sodwana Bay National Park in South Africa is an ideal diving destination near Mozambique.
Accommodation: Swiss-style log cabins and safari lodge
Activities: Diving, fishing, snorkelling, horse riding, turtle tours
Highlights: Premier scuba diving and snorkelling destination with Africa's southern most coral reef
Renowned for its sport fishing, scuba diving and snorkelling, Sodwana Bay National Park is situated on the Elephant coast in KwaZulu-Natal, South Africa, within iSimangaliso Wetland Park. This nature reserve reserve lies adjacent to Africa's southern-most coral reefs. The St. Lucia and Maputoland Marine Reserves are linked to each other to form a continuous protected area stretching 150km (93 miles) from the Mozambique border south to Cape Vidal and 3 nautical miles out to sea.
Guests can partake in Turtle Tours in the summer which allow views of Loggerhead and Leatherback Turtles that nest on the Sodwana bay beaches. This South African nature reserve in KwaZulu-Natal caters to the needs of water sports enthusiasts and nature lovers. Guests can enjoy a wealth of activities which include diving, snorkelling, boating, angling and hiking on a self-guided trail.
Sodwana Bay National Park offers Africa's southernmost coral reefs and outstanding climate. Sodwana Bay is one of the world's premier sport diving destinations. This South African nature reserve in KwaZulu-Natal features various popular dive sites with a great diversity of underwater seascapes, marine flora and fauna, corals, beautiful overhangs, drop-offs and mushroom rocks. Spectacular night dives have made this a not-to-be-missed destination for the scuba diving enthusiast.