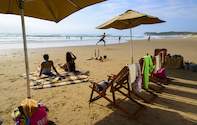 © Roger de la Harpe
Sodwana Bay National Park is a paradise for scuba divers and snorkellers. It is a serene sanctuary for water sports enthusiasts and also offers beach horse rides and seasonal Turtle Tours.
Sodwana Bay National Park is a haven for water lovers year round, with numerous water activities just waiting to be enjoyed. Fabulous scuba diving (including night dives), fishing, snorkeling, horse riding and Turtle Tours can all be enjoyed on a diving holiday in South Africa.
Beach and reserve activities
Horse riding can be enjoyed on the beach and in the reserve. Nature lovers and bird enthusiasts can follow a 5km (3 miles) walking trail which leads around the coastal forests and dunes. The area is rich in cultural history with evidence of ancient shell middens still found along the coastal dunes.
Turtle Tours in Sodwana Bay National Park
Leatherback and Loggerhead Turtles lay their eggs on the Sodwana Bay beach in summer, one of the few places in the world where this happens. For those interested in seeing this beautiful area from the air, micro-lighting is also available.
Fishing and boating
Ski-boaters and shore anglers at Sodwana Bay have the opportunity to catch a number of different game fish during their KwaZulu-Natal holiday in South Africa. Popular ski-boat fishing competitions are held regularly at Sodwana Bay and the park has produced record Billfish and Sailfish catches.
Snorkelling and scuba diving in Sodwana Bay, South Africa:
The diversity of fish and invertebrates on Africa's southern-most coral reefs in Sodwana Bay National Park attract scuba divers from far and wide. An abundance of excellent snorkelling spots can also be found along the Sodwana Bay coast. Scuba diving gear is available for hire.
Diving conditions at this KwaZulu-Natal nature reserve are good throughout the year, but the best diving occurs during April to September. On a good day visibility can reach up to 30 metres.
The weather at Sodwana Bay National Park in KwaZulu-Natal is typically subtropical and water temperatures are usually above 20°C (68°F) reaching 29°C (84°F) in summer. Guests during a diving holiday in South Africa can choose from a number of prime diving sites in the area:
Two-mile Reef - the most popular reef at Sodwana Bay with dives ranging from 9 metres to over 30 metres on the outer edge
Quarter Mile Reef - dived most often in January and February when the Ragged-toothed sharks congregate here. Stringer Reef is a small reef at a depth of 14 metres and has the greatest diversity of species.
Four / Five Mile - 8km from Jesser Point. This deeper reef has a predominance of branching, table and plate corals
Seven Mile - 11km north of Jesser Point and has beautiful overhangs, drop-offs and mushroom rocks
Nine Mile - the northern-most reef of the Sodwana Complex and ranges from 6 metres to 21 metres. There is a beautiful creation of hard coral - the green coral tree on the drop-off on the seaward side of the reef
Night dives - offer guests a whole new experience. The coral polyps come out to feed and the invertebrates use the cover of darkness to clamber over the Sodwana Bay coral reefs