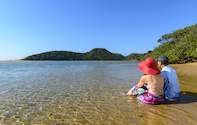 © Roger de la Harpe
The Kosi Bay Nature Reserve forms part of the iSimangaliso Wetland Park, it contains a system of estuarine lakes that offer excellent diving, snorkeling and fishing activities.
Accommodation: Luxury lodge and self-catering chalets
Activities: Diving, snorkelling, turtle tracking, canoeing, boating, guided walks, horse riding
Highlights: Some of the best dive sites in South Africa
Your Kosi Bay Nature Reserve Experience
Kosi Bay, a KwaZulu-Natal Nature Reserve, South Africa, forms part of the iSimangaliso Wetland Park - a World Heritage Site. The reserve lies on the shore of Lake Nhlange in the Kosi Lake system, and stretches to the Mozambique border and the Indian Ocean to the East.
Kosi Bay Nature Reserve is very popular with anglers and offers some of the best fishing and snorkelling experiences on the South African coastline.
In the summer months between November and January turtles come ashore late at night to lay their eggs on the sandy beaches within the reserve. At this time of year turtle tours are offered and visitors can watch the turtles lay their eggs. Humpback whales can be seen off the coast during their migration to calve in the warm waters off Mozambique.
The coastal forest on the edge of the lakes is home to shy Bushbuck, Duiker and Monkeys. The Raffia and Wild Date Palm forests are home to 250 species of birds, including the rare Fish Eagle and Palm Nut Vulture.
There are a number of activities on offer and guests can explore the unique ecosystem of this KwaZulu-Natal nature reserve in South Africa by guided canoe, boat trips on the lake, exciting forest walks or day excursions to the nearby coastal beaches. Malaria is endemic in the region so it is recommended that visitors take the necessary precautions.