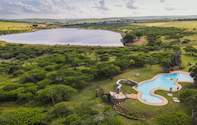 For a stylish safari experience, Tala Game Reserve near Durban is a panacea for stress and perfect for those wanting a sumptuous wildlife getaway.
Accommodation: Luxury safari lodge, standard safari lodges
Activities: Game drives, bush walks
Highlights: Malaria-free. See Rhino, Kudu, Hippo, Giraffe and Sable
Tala Private Game Reserve is a malaria-free wildlife sanctuary located in the hills of a peaceful farming community, close to the bustling city of Durban in KwaZulu-Natal, South Africa.
This game reserve near Durban is home to more than 380 bird species, as well as big game like Rhino, Kudu, Hippo, Giraffe and the rare Sable antelope. Plant species found in this area include the Fiery Aloe, the imposing Euphorbia and fragrant Wild Sage.
The landscapes at this game reserve near Durban, KwaZulu-Natal, South Africa, are characterized by a mix of acacia thornveld, open grassland and sensitive wetland, providing exceptional game and bird viewing opportunities. In this picture perfect setting, guests are able to escape from the hurried pace of modern life, to a place devoid of stress and crowds.
Tala Private Game reserve is an excellent place to host a professional conference, a romantic wedding and numerous other celebratory occasions, or simply relax and enjoy some pampering. Guests can also explore the reserve on guided game drives and bush walks.
La Tala Restaurant features a beautifully aged tree, elegantly draped in fairy lights as a central element to the decor. This spectacular thatched venue has a welcoming fireplace and two verandas on either side from which guests can view game and the surrounding bush. The acclaimed wine list is a perfect foil for culinary delights prepared by the executive chef.