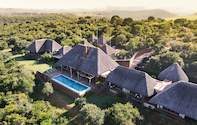 Guests at Tala Private Game Reserve can enjoy residing in the luxury Leadwood Lodge or the standard Figtree Lodge and Paperbark Lodge.
For safari lodge accommodation in KwaZulu-Natal, South Africa, Tala Game Reserve caters for variety of needs. Guests can stay in complete luxury or comfortable standard accommodation.
Leadwood Lodge (Luxury)

Leadwood Lodge was designed by an exceptional team of artisans, combining modern architecture and natural features. The decor is an eclectic mix of antiques and organic elements of Africa, including earth, water, glass and wood.
This luxurious accommodation in KwaZulu-Natal is the dream home of the reserves owner where guests can relax while enjoying the stunning views and world-class services and facilities. The executive chef creates culinary masterpieces for an 'out of this world' dining experience.
Accommodation is in 6 spacious and luxurious cottages, each appointed with the finest hardwood furniture and fine linen, all romantically tucked away within the beauty and complete privacy of the bush.
Please note no children under 12 are allowed at Leadwood Lodge and each room accommodates 2 adults maximum.
Cottages
6 gorgeous open plan cottages with views
Four poster double beds
Luxury en-suite bathrooms and private outdoor showers
Opulent interiors and amenities for discerning guests
Main House
Fine cuisine and luxury guest areas
Entertainment room and bar
Expansive indoor and outdoor living
Large pool and wooden deck
Exclusive wine cellar
Figtree Lodge (Standard)

This fully serviced and catered lodge in Tala Game Reserve boasts a traditional and authentic farm style atmosphere, guests will feel at home in this warm and comforting environment.
Figtree Lodge houses 5 rooms, each with en-suite bathrooms and congregating around a central open plan lounge with fully stocked bar and dining area.
Tranquil and opulent verandas overlook a pretty waterhole at Figtree Lodge, offering an instant appeal.
Figtree Lodge accommodates a maximum of 2 people per room.
Facilities Include
5 rooms with en-suite bathrooms
Dedicated lodge attendant
Open plan guest areas and expansive verandas
Views of the waterhole and facilities for a small conference
Paperbark Lodge (Standard)

Once a farmhouse, this lodge in Tala Game Reserve has been transformed into a place of luxury and style, with a large and welcoming fireplace, mahogany floors and polished verandas. The decor of the lodge combines a number of ideas, from dramatic wildlife paintings to high back chairs with shale walls and ethnic statuettes.
Paperbark Lodge features a beautifully tranquil garden lined with gravel pathways and a serene cascading water feature.
The luxurious premier suite boasts a sitting room, spacious bathroom with ball and claw bath and a luxurious four poster bed. Paperbark Lodge is situated near the expansive rock pools.
Paperbark Lodge accommodates a maximum of 2 people per room.
Facilities Include
17 rooms with en-suite bathrooms and a premier suite
Verandas, communal guest areas, restaurant and conference room
Tea and coffee making facilities
Separate romantic rondavel for couples overlooking a rock pool