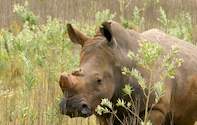 Safaris in South Africa at Tala Private Game Reserve involve great wildlife viewing and bush adventures as well as relaxation in wonderful natural surroundings.
Tala Game Reserve caters for wedding safaris in South Africa, conferences, student groups, family get-togethers, private escapes and romantic honeymoons. Activities include game drives and Tala picnics around the rock pools.
Game Viewing
Experience the great outdoors in a new and unique way at Tala Game Reserve during safaris in South Africa.
Game drives take 2 hours and are conducted throughout the day accompanied by a highly trained and experienced guide and tracker.
La Tala Restaurant
Delicious, world class dishes prepared by expert chefs at Tala Game Reserve cater to even the most discerning palate. Guests can savour a delicate fusion of flavours accompanied by wines from Tala's acclaimed wine list.
Weddings
For memories of a lifetime and breathtaking photo opportunities, Tala Game Reserve near Durban offers a dream setting with several world class venues for wedding safaris in South Africa.
Acacia: This private and popular wedding venue offers scenic views and a superb wooden deck leading to a watering hole.
Figtree: The Figtree Barn is magnificent with hand crafted chandeliers and grand farmstead features. Figtree also boasts a charming stone chapel and rolling lawns. This delightful venue is suitable for large weddings.
La Tala Restaurant: This is a spectacular venue for a romantic and intimate experience, complete with fairy lights, rock fireplace and marble and thatch bar.
Leadwood Lodge: This five star lodge offers the services of a dedicated chef for a small and exclusive ceremony in opulent surroundings.
Paperbark: Accommodating a maximum of 50 guests, Paperbark offers a personal and private wedding experience. This lodge has its own function room, catering and bar facilities. The manicured lawns are also available for serene and beautiful garden ceremonies.
Honeymoon
No wedding is complete without a completely indulgent and memorable honeymoon. Tala Game Reserve near Durban, KwaZulu-Natal, South Africa, offers romantic nights in splendid honeymoon suites at Leadwood, Aloe, Figtree, Paperbark and Mahogany. All the suites are beautiful and private, offering guests a dream retreat in magical surroundings.