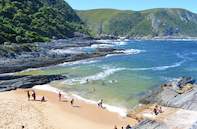 The Tsitsikamma National Park, part of the Garden Route National Park in South Africa, is a place where you can experience the outdoors, stunning marine life and an adventure filled vacation.
Accommodation: Rest camps, nearby country lodges and hotels
Activities: Diving, snorkelling, kayaking, hiking, swimming, climbing, abseiling, mountain biking, sailing, bungee jumping
Highlights: Famous Otters and Dolphin trails, scenery and whale watching
Your Tsitsikamma National Park Experience
Tsitsikamma National Park is a multi-dimensional destination with dramatic coastal scenery, reefs, rivers, lush forest and delicate Fynbos. A hiking and water sports paradise, this region forms the top section of the magnificent Garden Route National Park.
In Tsitsikamma National Park, Garden Route, South Africa visitors will see booming breakers of the Indian Ocean relentlessly pound rocky shores, temperate high forest and Fynbos (indigenous plants) rolling down to the sea in an unspoilt verdant carpet. Age old rivers carve their way to the sea and wonderful marine creatures swim along the shore.
The boundary of the Tsitsikamma National Park, South Africa stretches some 5km (3 miles) out to sea, protecting a wonderland of inter-tidal life, reef and deep-sea fish. Beautiful Dolphins play and surf in the breakers. The Southern Right Whale visits these waters in season, coming inshore to breed. The park has two rest camps, one at Storms River mouth and one at Natures Valley.
There are many hiking trails of varying lengths and nature walks in this region, the most famous of them being the Otter Trail, one of the best in the world. For those who prefer not to rough it there is a "slack packing" route, the Dolphin Trail, which is fully inclusive and includes portage.
The Top 5 Tsitsikamma Sights
Dolphins and porpoises
African Black Oystercatcher
Knysna Lourie
Cape Clawless Otter
Blue Duiker