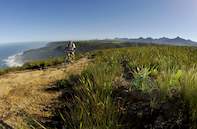 © Jacques Marais
Visitors on a Tsitsikamma National Park holiday can enjoy many outdoor activities in this multi-dimensional Marine and Nature Park surrounded by spectacular scenery.
The Tsitsikamma section of the Garden Route National Park is home to the world famous Otter Trail and many more hiking routes. Other Tsitsikamma National Park activities include diving, snorkelling, river adventures, whale watching, kayaking and tubing.
Guests on a Tsitsikamma National Park holiday can go on exciting activities. Try the highest bungee jump in the world from Bloukrans Bridge or do a tree-top canopy tour. Most adventures available within the park can be undertaken unguided, but for a small fee groups of 10 or more people can book a guide to accompany them and discover more about the history and ecology of the area.
Back to nature hikes include the Otter Trail which follows the spectacular Eastern Cape coastline from Storms River Mouth to Natures Valley. This special adventure takes 5 days and 4 nights. The Tsitsikamma Hiking Trail is a 2 – 6 day hike in beautiful mountain scenery with the option of equipment portage.
Delightful water activities in the Tsitsikamma National Park include guided inter-tidal excursions at Storms River which explore life along the shore and in various rock pools – masks and snorkels are provided. Visitors to the park can scuba dive and snorkel and take a course at Storms River Camp or enjoy kayaking and tubing adventures which are also offered.
A great way to see the inaccessible Storms River Gorge and marvel at the wonders of nature is on a boat called the "Spirit of Tsitsikamma". Cruises depart every 45 minutes during the day from below the Storms River suspension bridge, which is reached after a 30 minute walk along the Mouth Trail. Another sublime way to relax and enjoy stunning scenery is while canoeing along the Groot River from Natures Valley Camp which is also a great spot for various water sports and beach activities.
Activities
Hiking
Scuba-diving and snorkelling
Inter-tidal excursions
Kayaking and tubing
The Otter Trail
Dolphin Trail
Tsitsikamma Trail
Several nature trails (1-3 hours)
"Spirit of Tsitsikamma" boat rides
Marine and River Activities
Bathing at a small beach, and swimming pool
Guided outings (Eco-Guides from local communities)
Activities for School Groups
Holiday programme during school holidays
Activities offered by operators in the area
Kloofing
Abseiling and climbing
Mountain biking
Tree top tours
Tractor-trailer rides
Bungee Jumping – world's highest
Monkeyland Primate Sanctuary