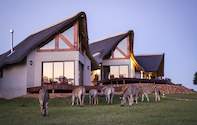 © Jacques Marais
Mountain Zebra National Park is a spectacular wilderness gem hidden in the Eastern Cape Province of South Africa, just 12 km from the historically-rich town of Cradock.
Why We Love it and You Will Too
Remote and rustic, Mountain Zebra National Park is a mecca for nature-lovers who want to steer clear of the main tourist trails.

The mixed terrain fits the bill for avid mountain bikers, hikers, and 4x4 enthusiasts. Traditional safari activities are also available like guided game drives and bush walks.

Embark on a special cheetah tracking tour to get up close to the fastest felines on earth.

Witness a variety of antelope species, a plethora of indigenous birds, and those signature Cape mountain zebra, after which the park is named

Head into Craddock to get your history fix. Visit the former house of South Africa's renowned author, Olive Schreiner, who penned "The Story of an African Farm".
Your Mountain Zebra National Park Experience
Mountain Zebra National Park is one of those enigmatic wilderness gems where you can get away from the tourist crowds and bask in the awe-inspiring beauty of the Karoo.
Tucked in a remote corner of the Eastern Cape Province, Mountain Zebra National Park was originally proclaimed in 1937 to provide a sanctuary for the Cape mountain zebra. Once topping the endangered list, they can now be seen roaming the park in small, healthy herds.
Since Mountain Zebra National Park features elements of three biomes; grassland, thicket, and Nama-Karoo, it supports a variety of mammals, from burly buffalo to black wildebeest, red hartebeest, eland, blesbok, kudu, and springbok. The birdlife is bountiful, too, with Verreaux eagles often seen surveying the plains and lucky sightings of gorgeous little Rock Kestrels snacking on reptiles and insects.
If luck is on your side, you might even witness the resident predators introduced to the park back in the day. These include hyena, in 2008, lions in 2013, and cheetah in 2007 which you can get up closer to if you sign up for the specialised guided tracking tour.