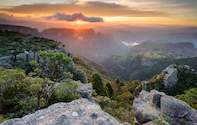 © Shem Compion
Blyde River Canyon Nature Reserve in Mpumalanga, South Africa forms part of the Greater Drakensberg escarpment and features on the scenic Panorama Route.
Accommodation: Private lodges and guesthouses
Activities: Hiking, horse riding, white water rafting, kloofing, hot-air ballooning, fly-fishing, biking, tours and boat trips on the Blyde Dam.
Highlights: Beautiful panoramic views and scenic waterfalls
Your Blyde River Canyon Nature Reserve Experience
Incorporating the third largest canyon in the world and impressive lush scenery, Blyde River Canyon Reserve (also officially known as Motlatse Canyon Provincial Nature Reserve) offers visitors a remarkable experience. This Mpumalanga Nature Reserve, South Africa is near Kruger National Park and covers 29 000 hectares stretching from the misty highlands down to the hotter and drier lowveld at the Blyde Dam.
Blyde River Canyon Reserve is situated against the Greater Drakensberg escarpment and includes natural wonders such as the Bourke's Luck Potholes, the Three Rondavels, Pinnacle Rock and God's Window. Many visitors to this region enjoy the visual splendour of combining the Panorama Route with exceptional game viewing in the Kruger National Park to create a spectacular itinerary in Mpumalanga.
These unique geological features are all easily accessible on tarred roads from the picturesque village of Graskop. There is ample accommodation throughout the area. Several hiking trails meander through the reserve and cater for all ages and levels of fitness. This Mpumalanga Nature Reserve in South Africa also offers a variety of adventure sports such as white water rafting and abseiling as well as quieter activities like fly-fishing.
Bio Diversity
Blyde River Canyon Nature Reserve is one of the few areas of montane grassland in Mpumalanga that still exists. The grasslands consist of more than 1 000 flora species of which many are endemic (found nowhere else in the world), rare or endangered.
Another extraordinary inhabitant is the Taita Falcon which is only found in a few places in the world. Visitors can see a variety of wildlife such as the Klipspringer, Grey Rhebuck, Oribi, Kudu and primates.
Geology at Blyde River Canyon Nature Reserve
The Blyde River Canyon in Mpumalanga, South Africa, extends for 50kms (31.07 miles) along the lip of the great African escarpment. From the canyon rim guests can look eastwards over the layered rocks of the canyon walls and the Three Rondavels to the Lowveld plain, 1 600 metres below.
It was at this point that the ancient super continent, Gondwanaland, broke apart and Madagascar and Antarctica tore free from Africa some 200 million years ago. The broken edge of the continent was gradually tilted upwards by the weight of a vast shallow sea stretching west to beyond Pretoria.
This sea, already ancient when Gondwanaland was split by these earth-shaping forces, left behind layer upon layer of dolomite and sandstone laid down as sediments over millions of years.