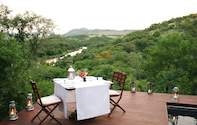 Nkomazi Game Reserve offers tented lodge accommodation that hits the sweet spot between authenticity and comfort, south-west of the Kruger National Park on the banks of the Komati River.
Why We Love it and You Will Too
The Nkomazi tent-style suites are authentic and comfortable, offering a true African glamping experience.
Enjoy traditional sundowners (or a freshly brewed morning coffee) during 4x4 game drives led by expert rangers. Expect to see giraffes, impalas, gnus, zebra, jackals, and warthogs, all amid the vast sprawling mountains and the Komati River that runs through the reserve.
Move alongside nature on interactive bush walks. Try a specialised birding safari or cast out a line in the Komati River.
Seek out your new favourite spot by your private plunge pool, or out on the game-viewing deck. Don't forget to bring a good book and pair it with a crisp drink from the bar!
Nkomazi Game Reserve in Mpumalanga is also home to some of the oldest rock formations on earth, embellished by ancient San rock art.

Your Nkomazi Game Reserve Experience
Nkomazi Game Reserve in Mpumalanga is surrounded by mountains, highveld and riverine valleys. Reaching into the south-west over 15 000 hectares, this is just the place to tune back into nature.
It's a well-run camp, with top-notch service and a professional, attentive team, but first, let's talk about the accommodation itself. The "tents" guests stay in are the most luxurious you will ever set eyes on. Some call it glamping, we call it exactly what a safari experience should look and feel like. Think sturdy canvas walls, timber framings and furnishings that look right off the set of "Out of Africa". The amenities are second to none, with king-size beds, big puffy pillows and soft bathrobes.
At Nkomazi Game Reserve, it is the little touches when you least expect it that will impress you ― hot towels after a game drive, melting hot chocolate when it's nippy, or a crisp G & T when it's hot outside.
The game drives are also a defining factor, led by guides who are extremely knowledgeable and enthusiastic about introducing guests to the resident herd of lions, as well as the vast range of other game, such as elephants, zebra, and warthog. Aside from animals, you can also experience some ancient San rock art etched onto some of the oldest rock formations in South Africa.
From Riverside Retreat Spa treatments to perfectly-timed sundowners to lazy afternoons in the pool gazing over the surrounding bushveld, nothing is ever rushed at Nkomazi. The only complaint you will ever make about the place is not staying long enough.