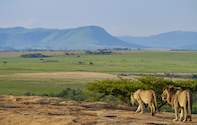 Located south-west of the Kruger National Park, on the banks of the Komati River, Nkomazi Game Reserve is surrounded by incredible river valleys and grasslands.
This Mpumalanga Game Reserve in Badplaas (now Emanzana), lies south-west of the Kruger National Park. It's an exceptional safari setting, surrounded by mountains and wide river valleys, as far as the eye can see. The area stretches out over 15 000 hectares and supports both Highveld and Lowveld game species, which makes for some of the most spectacular, and varied game viewing in the country.
It is possible to self-drive to Nkomazi Game Reserve from Johannesburg or most main towns or cities in the country. The length of the journey all depends and where you are coming from. The quickest way to get there, however, is to fly to Kruger Mpumalanga International Airport from where our Destination Specialists can arrange a private transfer, or a vehicle for you to drive to the reserve.
Nkomazi Game Reserve GPS Coordinates
S 26° 00' 02.71"
E30° 45' 25.88"