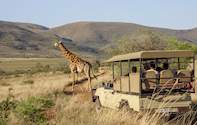 Nkomazi Game Reserve stretches out over 15 000 hectares and is home to a diverse ecosystem that supports both Highveld and Lowveld game species. Daily wildlife viewing activities can be enjoyed at the Nkomazi Game Reserve, including exciting safari game drives and bush walks.
How About a Game Drive?
At Nkomazi Game Reserve, game drives depart twice daily. These departures are perfectly timed in the early morning and late afternoon, when the animals come out of their hiding spots. It is also a lot cooler during these times, not just for the pleasure of the animals, but the guests too. Expert guides will introduce you to the bush using their vast knowledge and skills, paired with a great sense of humour.
Walk Alongside Nature
Aside from game drives Nkomazi also offers guided bush walks, led by qualified tracker guides. It's a great way to stretch out the legs and its a welcome change in pace. During these walks, you'll notice a lot of the finer details of your surroundings which you might have missed from the seat of the safari vehicle. The minimum age for walking activities is 16 years old.
A Few More Nkomazi Favourites...
You can also dabble in fly fishing (catch & release) at Nkomazi. Make your way to the nearby Komati River which cuts through the reserve. If you're not a fan of fish but do love your birds, try one of the organised birding safaris. There are just over 300 species to look out for. When night falls, the ranger will also happily sit with you pointing out a few of their favourite constellations.