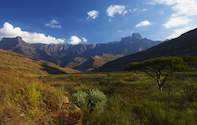 © Roger de la Harpe
The spectacular uKhahlamba Drakensberg Park in KwaZulu-Natal, South Africa, now known as Maloti Drakensberg Park is located just two hours from Durban and four hours from Gauteng. It offers scenic beauty, great hiking and a spiritual atmosphere.
Accommodation: Self-catering chalets, bungalows, cabins and safari lodges
Activities: Hiking, fishing, swimming, rock climbing, mountain biking, horse riding, boating, bird watching
Highlights: World Heritage Site for Rock art and endemic flora
Your Maloti Drakensberg Park Experience
Towering sandstone cliffs, gigantic peaks, hidden valleys and crystal clear rivers welcome you to the World Heritage site, Maloti Drakensberg Park. This premier eco-tourism destination is easily reached from Durban, KwaZulu-Natal or Johannesburg, Gauteng.
The vast Drakensberg in KwaZulu-Natal, South Africa can be divided into four sections - Bergville and the Northern Drakensberg; Winterton and the Central Drakensberg; Himeville, Underberg and the Southern Drakensberg and East Griqualand and Umzimkhulu. The park offers a wide range of accommodation from luxury lodges at Giant's Castle and Royal Natal National Park or fully-equipped cottages and chalets to rustic mountain huts and over-night caves.
The scenic Maloti Drakensberg Park in KwaZulu-Natal, South Africa, is a rich wildlife sanctuary. A diverse range of habitats protects high levels of rare and endangered animals and plants. A significant concentration of San rock art can be seen in hundreds of caves and rock-shelters at this Drakensberg nature reserve in KwaZulu-Natal - the largest group of Bushmen paintings south of the Sahara.
This Drakensberg nature reserve in KwaZulu-Natal is incredibly scenic and perfect for photography. From the highest peaks and majestic Amphitheatre to high altitude grasslands, the Tugela Falls and picturesque foothills, each aspect changes with the seasons and time of day. Tranquil uKhahlamba Drakensberg Park provides the perfect environment for scenic walks, hiking, biking bird-watching, swimming, riding and painting.
Booking Maloti Drakensberg Park