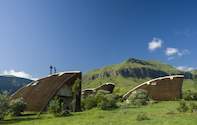 © Roger de la Harpe
For diverse facilities to suit all budgets, uKhahlamba Drakensberg Park offers scenic rest camps and fully equipped Drakensberg accommodation.
This Drakensberg accommodation in KwaZulu-Natal, South Africa, offers luxury lodges, fully-equipped cottages and chalets and overnight caves.
Conferences, weddings and honeymoons at uKhahlamba Drakensberg Park are catered for at beautiful Cathedral Peak (Didima) and Giant's Castle where there are also restaurant and pub facilities. Other superb Drakensberg accommodation can be found at Royal Natal's Thendele Camp. Hikers find retreats in rustic mountain huts and overnight caves in Injisuthi and Giants Castle, for truly outdoor accommodation.
Camp overview of uKhahlamba Drakensberg Park
Didima Resort
28 x 2 bedded chalets no kitchenette
32 x 2 bedded with kitchenette
2 x 4 bedded with kitchenette
1 x 6 bedded bungalows with kitchenette
1 x luxury honeymoon suite
Giant's Castle
1 x 6 bedded Lodge
16 x 2 Garden View Chalets
20 x 2 bedded Mountain View chalets
3 x 4 bedded Mountain View Chalets
1 x 4 bedded Garden View Chalet
3 x 6 bedded Mountain View Chalets
Bannerman Hut - 1 x 8 Bedded Mountain Hut
Please see Giants Castle Reserve for more info
Royal Natal
Thendele Resort
1 x 6 bedded lodge
2 x 6 bedded cottages
Lower Resort
8 x 2 bedded chalets
5 x 4 bedded chalets
Upper Resort
6 x 2 bedded chalets
7 x 4 bedded chalets
Please see Royal Natal National Park for more info