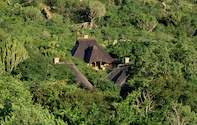 Ithala Game Reserve in KwaZulu-Natal, South Africa, is situated in the rugged, mountainous northern region which is home to a spectacular array of wildlife species.
Accommodation: Camps, self-catering chalets, private lodge
Activities: Walking trails, day and night game drives, swimming
Highlights: Fascinating geological formations, four of the Big Five
Ithala Game Reserve in South Africa is a game viewing haven. Nestled in the Ngotshe Mountains in northern KwaZulu-Natal, it has four of the Big Five and other African wildlife in areas of scenic beauty. Ithala offers spectacular geological diversity with some rock formations dating back 3 000 million years.
The area of Ithala Game Reserve was occupied by man for thousands of years, and there are many sites reminiscent of this times, with stone age spears and axe heads dating back 20 000 years. More recently, a few hundred years ago, iron smelting took place in the region and evidence can be found of this at the numerous smelting sites situated adjacent to deposits of banded ironstone.
This KwaZulu-Natal game reserve was the setting for many of South Africa's historic events, including the reign of Shaka and his successive Zulu kings and the gold mining enterprises in the early years of the 20th Century. Ithala Game Reserve offers an excellent auto trail and a variety of game activities. A notated guide booklet is available in the shop at Ntshondwe, Ithala's award winning camp.