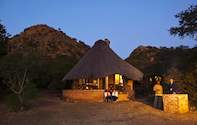 Guests of Ithala Game Reserve will stay in luxury KwaZulu-Natal accommodation at Ntshondwe Camp, an acclaimed rest camp with great amenities or, at private fully equipped lodges.
Ntshondwe Camp chalets and 4 different lodges provide KwaZulu-Natal accommodation at Ithala. There is a fully licensed restaurant, bar and coffee shop in the camp while some lodges have their own cook to prepare food brought by guests.
Ntshondwe Resort
Ntshondwe's 67 chalets blend into lush settings of wild figs, acacias, cabbage trees and other indigenous flora. 39, two to six bedroomed self-catering chalets are available (some of which have been designed for the physically challenged) and 28 twin-bedded non-catering chalets with a fridge and tea and coffee making facilities, these are perfect for tour groups, conference delegates and those who wish to be at total leisure and enjoy the catering provided by the restaurant facilities.
These chalets are situated around the visitors centre which has a fully licensed restaurant, bar and an open viewing deck that overlooks a small watering hole.