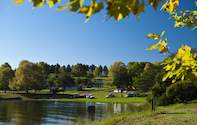 © Roger de la Harpe
Relax in the great outdoors with your family and friends at Midmar Dam. This KwZulu-Natal nature reserve has water sport facilities and a game park for fun in the sun and happy get-togethers.
Accommodation: Chalets with DSTV and braai facilities
Activities: Boating, fishing, water sports, swimming, game viewing
Highlights: Great facilities and views of the dam in a peaceful setting
Your Midmar Dam and Nature Reserve Experience
Midmar Dam offers a large expanse of fresh water surrounded by rolling countryside. Enjoy accommodation near the shore line and open views at this KwaZulu-Natal nature reserve. Midmar is a popular destination for various sports events.
With facilities for canoeing, sailing and windsurfing, Midmar Dam offers opportunities for a great weekend away or a family holiday. Fishing and boating enthusiasts can spend time on their favourite activity, while those who enjoy walking and biking can view various antelope species in the game park section.
Things You Should Know
The dam water is bilharzia free and quite safe for swimming (in-shore away from boats)
The dam is zoned for powerboats, personal water craft and yachting
Power boat skippers must have a Category R Certificate
There is a boat shop for the hire of yachts, canoes and windsurfers and the purchase of fishing equipment and boat spares - open on weekends and at peak holiday times
Day visitors will find picnic sites under the trees next to the water (ablutions and refuse facilities provided)
Visitors can hire boat or caravan storage units (some are lock-up garages)on an annual basis
A fuel station is situated close to the main entrance gate to the reserve