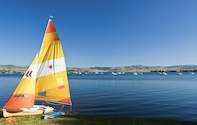 © Roger de la Harpe
Set off on a drive through the game park or go fishing, sailing, canoeing and windsurfing. Bring your own boat for more exciting Midmar Dam activities such as kite-surfing or simply enjoy swimming and relaxing.
Enjoy walking and biking routes or picnics on the rolling lawns and shoreline around the dam. Other popular Midmar Dam activities include Midlands Meander excursions and attending a variety of sports and local events in this beautiful area
Day visitors will find attractive, shady picnic sites along the shoreline (ablutions provided), while guests staying in the Midmar Dam chalets and cabins can enjoy time in the swimming pool and on 2 all-weather tennis courts. Fishing enthusiasts can explore designated activity zones and fish for Bass, Scalies, Bluegill and Carp which are abundant in the dam.