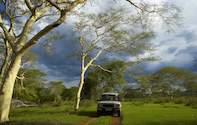 © Roger de la Harpe
Ndumo Game Reserve is located in Maputoland, KwaZulu-Natal, South Africa, close to the Tembe Elephant Park on the Mozambique border.
Ndumo Game Reserve, a Ramsar site (wetlands of international importance), is home to an impressive array of wildlife including exotic East African and aquatic bird species. Ndumo is located in Maputoland, KwaZulu-Natal, South Africa, 80km / 50 miles from Jozini.
This KwaZulu-Natal nature reserve in South Africa is close to Mozambique and has wonderful scenery and dense bushveld, wetlands and coastal forest.
Education Centre at Ndumo Game Reserve
There is an excellent education centre at Ndumo Game Reserve, offering interesting programmes for student, special interest and tourist groups. This project in Maputoland, KwaZulu-Natal, South Africa is within an hour's drive of the magnificent Kosi Bay estuarine and lake system, and 30 minutes from Tembe Elephant Park with its stunning views of Swaziland and Mozambique.
Learning programmes
There are professionally trained and experienced educational staff who plan and conduct the learning programmes
A wide range of practical learning activities are offered in a number of ecosystems including: pans, wetlands, bushveld, flood-plains and grasslands
Learning trips can also be organised to Tembe Elephant Park and Kosi Bay
Activities are supported by a substantial range of resources including hands-on booklets, share-net resources, field guides and so on
A combination of learning, fun and adventure with starlit campfire evenings provide enriching life long memories
Directions to Ndumo Game Reserve
From the north or south follow the N2 highway and turn off at Jozini. Go through the town and across the dam wall. Follow the road until you see the Ndumo Game Reserve sign posts.