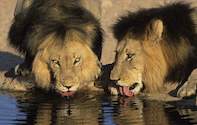 © Nigel Dennis
The Kgalagadi Transfrontier National Park stretches across South Africa and Botswana, on the border of Namibia. Known for its exceptional predator sightings the safari park is a popular tourist destination for game-viewing and bird-watching.
A Travel Guide to the Kgalagadi Transfrontier Park
Access
Located in both South Africa and Botswana and with Namibia forming its western boundary, the Kgalagadi Transfrontier Park is accessed through one of 5 main gates and visitors can enter and exit either in Namibia, South Africa or Botswana. The South African gate; Twee Rivieren gate is situated approximately 250 kilometres (155 miles) from Upington in the extreme north of the Northern Cape Province. The safari park's Twee Rivieren gate is located 1 090 kilometres (675.8 miles) from Johannesburg along the N14 national road.
The roads can be in a state of poor maintenance, especially after heavy rains and 4X4, 2X4 or high clearance vehicles are highly recommended. A higher vehicle also has the added advantage of better game-viewing, especially when the rains result in tall grasses.
Passport Control
Visitors entering and leaving the reserve from the same gate or same country will not need to present their passports, however; those wanting to exit through a different gate into another country from their entrance will need to carry a valid passport.
Airport
The closest domestic airport to the national park is Upington Airport. Visitors can fly into Cape Town International or Johannesburg's O. R. Tambo International Airport and then catch a connecting flight to Upington.
Highlights
Abundant game animals, exceptional sightings of big Cats and other predators, unbelievable sightings of birds, especially raptors, an absolutely idyllic setting and some real up-close and personal African wildlife experiences in the unfenced camps - the Kgalagadi Transfrontier Park is highly recommended and definitely worth visiting. The open vegetation and uninterrupted views result in fantastic game viewing experiences and enthusiastic wildlife photographers can look forward to capturing some fantastic stills.
Activities
Visitors staying overnight at a number of the park-run camps, namely Twee Rivieren, Nossob, Mata-Mata and the Kalahari Tented Camp can enjoy a guided morning or sunset guided game drives. For those looking for some exercise, the parks also offer guided walking safari experiences where visitors can accompany a guide through the bush on foot in search of African wildlife. During the hot summer months guests staying at Twee Rivieren,Kalahari Tent camps, Mata Mata and Nossob camps can also enjoy a swim in the swimming pool.
The reserve has a number of 4X4 trails to explore ranging from a few hours to overnight excursions. The two longest trails are the 214 kilometre (132.6 miles) Nossob Eco Trail and the 257 kilometre (159.3 miles) Wilderness Trail.
The reserve is known to offer fantastic game viewing from watering holes and guests are advised to pack a picnic or a few snacks, head to a nearby waterhole and sit back and relax for a few hours, watching as a wide variety of African game; from Lion, Cheetah and Leopard, to Gemsbok, Blue Wildebeest and Common Eland, all come down to the water to drink and cool down. The water holes and rivers are also the best locations to spend some time bird-watching.
Accommodation
Accommodation varies depending on which rest camp you are staying at. The main camps; Twee Rivieren, Mata-Mata and Nossob all offer wilderness camps and camping sites and there is also a selection of luxury safari camps available. The camps at Bitterpan, Kieliekrankie, Urikaruus, Grootkolk, Gharagab and Kalahari Tent camps are not fenced and visitors are advised to take caution as wildlife may be wandering through the camps, especially at night. See Kgalagadi Transfrontier accommodation options.
The Experience
Many people rate a visit to the Kgalagadi Transfrontier National Park as one of the best safari game-viewing experiences they have ever had. There are 62 mammal species found in the national park and most of them are found in abundance especially the predators with around 450 Lion, 250 Cheetah, 600 Brown Hyaena and around 400 Spotted Hyaena. A rustic and truly African experience, unless you are staying in one of the luxury safari camps, do not expect perfectly maintained accommodation facilities but you will enjoy the sense of being in the wild with the unfenced camps allowing Jackal and other game to saunter past your camp at night.
A high clearance vehicle, anything bigger than a sedan, is definitely recommended both for navigating the internal road network and also to provide a higher vantage point from which to view the game animals. Bird watching is also a popular activity in the nature park and there are at least 203 species of birds recorded here. The raptors are definitely a highlight and regular sightings of all sorts of birds of prey are reported from sightings of Pygmy Falcons to Lappet-faced Vultures.
Climate
The wilderness reserve receives most of its rainfall between the summer months of October and April in the form of thunderstorms. Average rainfall ranges from 120mm to 200mm. After the rainfall the landscape becomes awash with new life as vegetation spouts and animals flourish with more available water. Summer temperatures range from 40°C (104°F) near Mata-Mata to -6.8°C (21°F) in winter. Winters are dry with frost occurring frequently.
Useful Information
There are shops with basic supplies at Mata Mata, Twee Rivieren and Nossob however; guests are advised that there are no debit/credit card facilities at Mata Mata and Nossob, only at Twee Rivieren and they should carry cash on them. There is generally no cell phone signal in the reserve and the only public telephones are at Twee Rivieren. The drinking water is sometimes very salty and visitors should take their own water supplies with them, especially when staying at the Wilderness Camps where there is no potable water.
There is a fair amount of distance between the Twee Rivieren gate and the camps and visitors are advised to allocate sufficient time for travelling between the gate and the camps. The safari park is considered to be a low risk malaria area, especially after heavy rains in summer and visitors are advised to consult their doctors prior to travelling to the reserve.Due to the extreme heat and lack of drinking water at some of the camps, visitors should carry at least 10 litres of water with them in their vehicles at all times.
Scorpions are common throughout the park and guests are advised to always wear shoes and to check their shoes before putting them on. Rolling your socks into balls and stuffing them in your shoes is also a good way of stopping scorpions from crawling into your shoes.
Read more on:
The arid landscapes with red dunes and blue skies in Kgalagadi Transfrontier Park together with various African wildlife is ideal for game viewing...
more