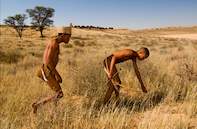 The arid landscapes with red dunes and blue skies in Kgalagadi Transfrontier Park together with various African wildlife is ideal for game viewing and photographic safaris.
Why We Love it and You Will Too
Accommodation: Rest camps, luxury game lodges, wilderness camps
Activities: Game drives, hiking, 4x4 trails, Eco trail, Swimming
Highlights: Fantastic birding and scenic 4x4 trails
Your Kgalagadi Transfrontier Park Experience
The Kgalagadi Transfrontier Park lies in a large sand-filled basin in the west of the southern African subcontinent, known as the Kalahari Desert. It straddles both South Africa and Botswana to create an enormous conservation area of over 3,6 million hectares and one of the very few of this magnitude in the world.
The Kgalagadi Transfrontier Park is an amalgamation of the former Kalahari Gemsbok National Park of South Africa, which was proclaimed in 1931 mainly to protect migratory game such as Gemsbok, and the adjacent Gemsbok National Park in Botswana.
Kgalagadi Transfrontier Park is characterised by vast arid landscapes with red dunes, sparse vegetation and camel thorn trees. Animals tend to gather in the dry river beds and waterholes. Herds of Gemsbok, Springbok, Eland and Blue Wildebeest follow the seasons, closely watched by prides of Black-Mane Lion. Other predators include Leopard, Cheetah, Brown and Spotted Hyena and birds of prey.
Please Note
Border crossing from South Africa into Namibia: Travellers wanting to exit the park other than the point of entry must kindly note that all immigration controls must be done at Twee Rivieren, and that a minimum 2 night stay is required inside the Park.
Border crossing from Namibia into South Africa: Border crossing at Mata Mata from Namibia into South Africa requires that you have 2 nights confirmed booking in the Park.
Driving in the park is not permitted after dark - guests must arrive at their camps in good time and gate times are strictly adhered to. Not all roads within the park are sedan friendly, even though the roads are maintained on a monthly basis, sedan vehicles may find it difficult to cope with the conditions.
General Facilities
Twee Rivieren
This is the largest rest camp and administrative base. It has a swimming pool, information centre (wheelchair friendly) and shop, public telephone and cell phone reception. The a la carte Restaurant serves breakfast and dinners.
Shops
Shops in Twee Rivieren, Mata-Mata and Nossob sell commodities that you would find in a local supermarket, including fresh meat, milk, cheese, eggs, bread, wine and beer.
Petrol
(Premium and unleaded) and diesel is available at Twee Rivieren, Mata-Mata and Nossob.
Swimming pools
Refreshment in cool water can be found in Twee Rivieren, Mata Mata, Nossob and Kalahari Tented Camp.
Five picnic sites
They are available on main routes in the park with barbecue facilities and communal ablutions (no water available).
Predator Centre
A Predator Centre can be found at Nossob.
Hides
They are located at the water hole at Nossob (wheelchair friendly) and Mata Mata.