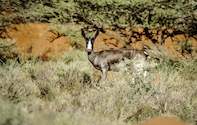 © Jacques Marais
The malaria-free Mokala National Park in Northern Cape lies southwest of the town of Kimberley and offers the perfect outdoor stopover between Cape Town and Johannesburg.
Why We Love it and You Will Too
Mokala National Park's landscape offers a dynamic and beautiful mix of veld, koppies (hills) and open plains.

There are no predators or big game like lions and ellies making it safe enough to bring the kids along. This also means fewer tourists...

As for accommodation, the park features a range of different options for well-heeled travels, as well as for those on a shoestring.

Interested in birding? Mokala's medley of species is extensive. It is also home to seven indigenous plants (like Camel Thorn Acacia) if you're also interested in the local flora.

It also boasts its fair share of gentle grazers which includes: giraffe, black rhino, wildebeest, kudu, steenbook, gemsbok (oryx), eland, and hartebeest.
Your Mokala National Park
Tucked within a quiet corner of the Northern Cape Province, the Karoo-meets-Kalahari landscape of Mokala National Park is a sight for sore eyes.
Just imagine it: dolomite-dotted koppies, clusters of camel-thorn trees and far-reaching plains making the sky look even more expansive. The whole place is pure magic for nature-lovers and outdoor enthusiasts who can self-drive, game view and stargaze to their heart's content.
As for the local wildlife, Mokala National Park boasts bucketloads of small predators and gentle grazers, with a birding list that is long—the plant species list even longer. The night drives come highly recommended as do the guided rock art tours and twin-track 4x4 routes.
Proclaimed in 2007, not only is this park one of South Africa's newest, but also one that is malaria-free making it a top choice for families. If you're itching to get the kids out of the house, this one's definitely you! As for the accommodation in Mokala National Park? Expect a wide range of options to suit all styles and budgets.