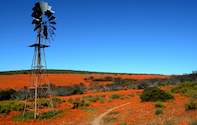 © Karl Svendsen
With its beautiful blend of wildlife and wildflowers, Namaqua National Park in the Northern Cape Province, ticks all the right boxes for adventurers and nature-lovers.
Why We Love it and You Will Too
Witness a range of unique animals like the black-backed jackal, the bat-eared fox, and the Cape fur seal near the coastal section of the park.
Bird-lover? Expect to see a range of raptors, like Rock Kestrel, Black-shouldered Kite, and Black Harrier.
Keep your eyes peeled for the world's smallest tortoise - the Namaqua Speckled Padloper.
Time your visit with the arrival of millions of Cape wildflowers which come into full bloom after the rains between May and July.
Tackle a few scenic trails on foot, take on the 4x4 eco-routes or settle down for a picnic amidst those iconic quiver trees (also called kokerboom).
Your Namaqua National Park Experience
If you're looking for your next retreat to soothe the soul, look no further than Namaqua National Park, located on the less inhabited Western Coast of South Africa.
As the name suggests, the park forms part of Namaqualand, an area found within the semi-desert Succulent Karoo biome and the landscape is utterly breathtaking. Think scores of quiver trees, gigantic granite outcrops, and a sky so blue and so wide, it has to be seen to be believed.
Time your visit just right, and you'll get a front-row seat to the arrival of millions of wildflowers that burst from the soil from around July to September. It's primed as one of the greatest shows on earth you'll ever witness and one of the biggest drawcards of the region. Namaqua National Park is also home to a medley of tiny mammals, from the fleet-footed steenbok to gorgeous little elephant shrews and gangs of curious meerkats. Head to the coastal section of the park for a dose of the ocean and you might just be lucky enough to witness Cape fur seals.
Along with watching out for Namaqua National Park wildlife, other activities here include walking (try the Sliver Sands Trail), mountain biking, and going 4x4 driving. The birding here is also top-notch and it won't take long for the resident kestrels and kites to catch your eye as they circle overhead in search of their next meal.