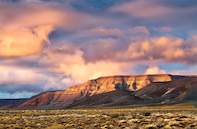 © Chris Daly
With the brightest starry skies and rare plant life, this Northern Cape nature reserve in South Africa offers a unique destination for lovers of nature and beautiful landscapes, just 4 hours from Cape Town.
Accommodation: Rest camps, cottages, guest farm
Activities: Birding, drives in flower season, 4x4 trails, stargazing
Highlights: Exquisite Karoo landscapes, endemic birds and night skies
Destination: On the Northern Cape's southern border near Sutherland
The Tankwa Karoo National Park especially in flower season is a visual delight, but that is not all you'll discover. Surreal desert moonscapes and scenic landmarks define this Northern Cape nature reserve in South Africa. The soulful Karoo has long been a place in which to find peace and tranquillity.
Tankwa Karoo National Park is also known for its spectacular birdlife. It's a regular stopover for bird watchers in search of at least 18 Karoo endemics, and a must do for birders visiting Southern Africa. This nature park hosts an abundance of reptile and invertebrate species and more recently antelope species have been introduced.
When you visit this Northern Cape nature park you will be within the Succulent Karoo Biome, one of only 25 exclusive hotspots for diverse plant and animal life found on earth - even more outstanding is that it is the only arid region recognised as a hotspot.