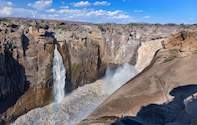 © Chris Daly
The enigmatic and alluring Augrabies Falls National Park is situated just west of the town of Upington in the Northern Cape Province of South Africa.
Why We Love it and You Will Too
Bask in the beauty of the Augrabies Falls waterfall flowing from 60 metres high.

Photographers, assemble! Several dedicated viewpoints reveal stunning vistas over craggy outcrops, scrub-dotted plains and the Orange River (the longest in South Africa).

Birding and game viewing opportunities abound, with prowling predators like black-backed jackal, caracal, African wild cat and yes, there's even leopard!

Admire interesting plant life like the Quiver Tree (Kokerboom) which gets its name from the Khoi-San who used its soft branches to make quivers for their arrows.

Love being outdoors? The activities list includes self-guided hiking trails, 4x4 game drives, river rafting, and mountain biking.
Your Augrabies Falls National Park Experience
With a plummeting waterfall, azure skies and an alien-like landscape, Augrabies Falls National Park in the Northern Cape ticks all the right boxes for die-hard adventurers.
Sporting extreme temperatures and terrain best described as bone-dry, you'll be amazed at the abundance of life out there. Look closely and this seemingly barren region will reward you with sightings of raptors circling overhead, and a collection of antelope species, such as klipspringer, gemsbok, springbok, and eland. Other Augrabies Falls National Park inhabitants include over 70 different species of vegetation.
If you're heading into the area for the first time, a few of our favourite features to bookmark include the 60-metre high Augrabies Falls. There are plenty of viewing points, too, with unique and unusual names like Moon Rock, Echo Corner, Ararat and Spies Rock adding to the appeal.
At the heart of Augrabies Falls National Park is the impressive Orange River bringing much-needed nourishment to the land. It also lures in thrill-seekers and rafting-enthusiasts looking to tackle its rollercoaster rapids.