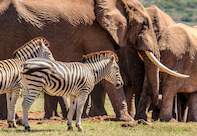 © Ann Gadd
The Eastern Cape's leading national park; the Addo Elephant National Park, is a malaria free, Big Five game reserve known for its' large Elephant population and spectacular game viewing.
A Travel Guide to the Eastern Cape's Addo Elephant National Park
Access
The national park is accessed from well-maintained tarred roads through one of two entrances; the Main Entrance Gate or the Matyholweni Gate. Addo is located 72 kilometres (44.6 miles), approximately 1 hours drive, from Port Elizabeth.
Internal Road Network
A majority of the 64 kilometre (40 miles) road network within the safari park is gravel which is well looked after and accessible by sedan vehicles. The entrance road and some of the tourist loops are tarred. There is a 45 kilometre (28 miles) 4X4 route available for off road vehicles.
Airport
The closest international airports to Addo Elephant National Park are Cape Town International or Johannesburg's O. R. Tambo International Airport. From either one of these airports one can catch a connecting flight through to the domestic airport in Port Elizabeth.
Highlights
Addo Elephant National Park is South Africa's third largest national park and offers exceptionally good game viewing opportunities in rich and diverse habitats, including Karoo style succulent country and coastal dunes.
Visitors to the safari park can look forward to seeing wonderful sightings of the Big Five, especially Elephant. The park is considered the best location for viewing these majestic creatures.
Being malaria free, Addo Elephant National Park is the ideal game reserve for families with small children to visit.
Activities
Visitors to the Addo Elephant National Park can choose to visit the park for a day, entering the reserve during gate opening and closing times and enjoying the reserve before returning to their accommodation outside of the safari park. The national park offers a number of exciting activities for guests to enjoy while visiting the area.
There is a 45 kilometre (28 mile) 4X4 trail for those wanting to explore the harder to reach regions of the reserve in their off-road vehicles, alternatively guests can choose to embark on an accompanied horse-ride along one of the three trails available.
The game viewing road network allows guests to explore the reserve on their own accord, stopping to enjoy a meal at one of the picnic sites provided, or simply meander slowly along a road stopping to watch a herd of Elephants or a family of Warthogs. The park also offers knowledgeable guides who will accompany visitors in their own vehicle on a game drive. Guests can also enjoy a guided game drive on one of the park's open game-viewing vehicles.
With over 417 bird species to be found within the reserve, Addo offers exceptional bird-watching opportunities and guests should not forget to spend some time looking up at the trees and into the sky for some extraordinary sightings.
Accommodation
A very popular safari destination, Addo Elephant National Park offers a number of different Addo Elephant National Park accommodation options but they do fill up quickly and guests are advised to book well in advance to avoid disappointment.
The Main Rest Camp offers 61 accommodation units ranging from cottages to safari tents and rondavels (round huts) as well as a camping site. The Matyholweni Camp has 12 units with the same variety. There are also a number of luxury safari lodges and bush camps within and surrounding the safari park.
The Experience
A not-to-be-missed, unforgettable experience! Addo Elephant National Park provides some of the best game viewing experiences out of all the safari parks in South Africa. Filled to the brim with game, even if you only have a few hours to spend visiting the park, you will be guaranteed to have a number of fantastic game sightings.
A rich and diverse landscape every twist and turn within the road network opens up a new and exciting page in the safari adventure. Close up encounters with herds of graceful Elephant sauntering past your vehicle or quizzical Kudu flicking their ears to hear what is going on, will provide unforgettable photo opportunities and endless tales to tell around the campfire in the evening. The reserve also offers different or rarer game viewing experiences such as a sighting we once had of a Black-backed Jackal gnawing on a bone on the side of a road, or a large eared Scrub Hair springing through the grass.
No matter what age you are, soaking up the sights and sounds of Africa in the peaceful and tranquil setting such as this is an ideal way to relax and escape from the stress and toils of day-to-day city living. Pack a picnic breakfast , wrap up warmly and head out early, as the gates open, for a chance to maybe spot a few of the more shy or nocturnal game animals. Sun downer drinks at a watering hole watching a herd of Zebra is another wonderful way to pass some time.
Climate
The game reserve falls into what is considered a tension zone, where summer, winter and all-year rainfall occurs year-round. The most rain usually falls between February and March and October and November. Temperatures in the summer months, from November to March range from 15°C to 45°C (59°F - 113°F) while winter months are much colder dropping down to 5°C - 18°C (41°F - 64°F) in July.
Useful Information
Visitors to Addo Elephant National Park should not forget that it is a wildlife reserve and large and dangerous game is found outside of the fenced in camp areas. Sticking out of, or disembarking from one's vehicle is not recommended and the rules of the park should be adhered to at all times.
Read more on
Addo Elephant National Park is situated in the dense valley of the Sundays River region. This Eastern Cape game park offers a memorable wildlife...
more