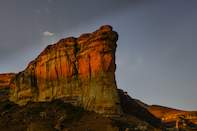 © Jacques Marais
Everything you need to know about the Golden Gate Highlands National Park, one of the Free State Province's most popular tourist destinations.
A Travel Guide to Golden Gate Highlands National Park
Access
The Golden Gate Highlands National Park is located equidistantly from Durban, Johannesburg and Bloemfontein and can be accessed via well maintained tarred roads. The journey will take approximately 350 kilometres (217 miles) from either location.
Airport
By Air: Visitors can fly into any of the 3 international airports: O. R. Tambo International Airport in Johannesburg, King Shaka airport in Durban and Bloemfontein International airport in Bloemfontein.
Highlights
Incredibly beautiful, breath-taking, dramatic scenery with otherworldly colourful cliff formations and rolling slopes that can all be explored on hiking trails and well-maintained tarred roads. Bird watching is very rewarding with a number of the high-altitude species regularly being spotted.
Accommodation
There are a number of accommodation options to choose from when deciding to stay in Golden Gate Highlands National Park. The park-run Glen Reenen Rest Camp offers a 60 space campsite as well as 32 fully equipped thatched self-catering units. The Highlands Mountain Retreat has 8 family cottages that are found deep in the national park and are fully equipped for self-catering. Finally QwaQwa, that resembles a Basotho Village, has 24 chalets.
The Experience
Rated as an ideal location for a secluded romantic getaway or a family retreat, the beautiful mountain backdrop combined with the fresh air and tranquillity of the natural surroundings provides an idyllic location to relax and unwind from the busy hustle and bustle of day to day life.
Nature lovers will be in their element with the rural scenery and copious space extending out towards them. Steep sandstone cliffs drop down into rolling slopes and flat grass covered plains all combining to form the dramatic scenery that the park is so well known for. Head out into the reserve on a scenic drive or a leisurely walk through the long grasses.
Climate
The Golden Gate Highlands National Park is located in a summer rainfall area with rainfall occurring from November to April in dramatic thunderstorms that roll in over the cliffs. Winter, from May to October sees temperatures dropping to 13°C (55°F) and increasing in summer to 26°C (78°F). Frost is common in winter and snow falls fairly frequently often remaining on the land, at high altitudes, for a few days.
Useful Information
The weather is known to change fairly suddenly and hikers should always pack extra layers. Higher ground should be avoided during the thunderstorms in summer and should not be underestimated as fatal lightning strikes have occurred.
Read more on
The Golden Gate National Park is a Free State Nature Reserve located in the north eastern part of Free State and derives its name from the brilliant...
more