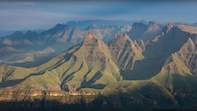 The Drakensberg mountain range, stretching along the eastern side of South Africa, is a place of rugged beauty made up of plateaus, peaks, cliffs and deep valleys.
The Drakensberg were once a spiritual home for the San people, whose rock paintings adorn many of the caves and cliff faces. Today a large section of the range has been proclaimed a conservation area and a World Heritage Site under the name Ukhahlamba-Drakensberg Park.
My first ideas of the Drakensberg were shaped from books in our library at home where I read of the majesty and beauty of the place. Names like Giants Castle and Golden Gate formed a picture in my mind of an almost mystical place - and when the world famous Drakensberg Boys' Choir visited our town the image of a mountainous wonderland echoing in song took root.
Drakensberg - a Human History
The Drakensberg has been home to the hunter-gatherer San people for thousands of years where they lived in caves and shelters and left a rich legacy of paintings on the rock walls.
The Drakensberg has more than 60% of all known rock art sites in southern Africa and the paintings have been described by UNESCO as "world famous and widely considered one of the supreme achievements of humankind...outstanding in quality and diversity of subject and in their depiction of animals and human beings ... which throws much light on their way of life and their beliefs. The rock art of the Drakensberg is the largest and most concentrated group of rock paintings in Africa south of the Sahara, and is outstanding both in quality and diversity of subject."
The San were pushed out by the southern migrating Nguni peoples and then the Boer farmers who settled in the area to get away from British rule. The Boers crossed the mountains in their ox-wagons - which you soon realize was no feat as you look out over the valleys and peaks.
The Boers were stock farmers and hunters, shooting the game that the San relied on their survival for and in turn the San hunted the domestic stock thereby bringing them into conflict with the Boers who would often shoot the San on site.
Echoes of the Past
Today, if you stand for a moment in the silence of the mountains, you may hear the echoes of the many dramas that took place in the foothills of the Drakensberg, from the bloody rise of the great Zulu king Shaka to the Anglo-Zulu War and the Anglo-Boer wars.
The Ukhahlamba-Drakensberg Park is a magical place where you can imagine giants roaming the ridges and valleys and if you listen closely you may even hear the sound of heavenly voices.
by Leigh Kemp
The spectacular uKhahlamba Drakensberg Park in KwaZulu-Natal, South Africa, is located just two hours from Durban and four hours from Gauteng....
more