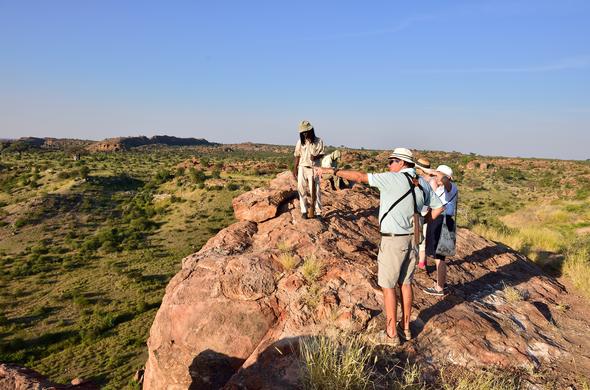 A travel guide to exploring the Mapungubwe National Park in Limpopo with tips on what to do, how to get there, and what not to miss while staying in one of the tented camps or game lodges.
A Travel Guide to Mapungubwe National Park
Access
You can access Mapungubwe by car from Johannesburg on the N1 towards Polokwane. By air the closet airport is Polokwane International Airport just 200 kilometres (124.27 miles) from the reserve. There is also a daily coach service available to travel from Gauteng to Musina from where there is an Avis Car Hire office.
Gate opening and closing times
From 06:00 to 18:30 from September to March
From 06:30 to 18:00 from April to August
Internal Road Network
Approximately 35km of roads are suitable for normal sedan vehicles. A further 100km is accessible to all terrain (4x4) vehicles.
Airport
Polokwane International Airport
Highlights
The game reserve is home to the Big Five as well as other African wildlife. Don't miss out on exploring the most important Iron Age site in South Africa - there are a number of archaeological sites worth visiting. Mapungubwe is known for its beautiful and expansive views across the Limpopo River and its interesting scenery. Spend some time bird-watching in one of South Africa's best bird-watching destinations with over 467 species of bird found in the reserve.
Activities
Stay in one of the park-run accommodation units or tented camps and enjoy guided game-drives and walking safari tours. Explore the cultural and historical landscape of Mapungubwe on an organised tour of the World Heritage Site. Take in the magnificent surroundings on one of the many viewing platforms overlooking the Limpopo River. Take some time out and visit the Maloutswa bird hide near the forest camp where you can spot a variety of different bird species and also enjoy some game-viewing.
Accommodation
There are a number of South African National Parks camps in the Mapungubwe area, all offering a range of self-catering lodges, wilderness camps and tented camps.
Mapungubwe camps include:
Leokwe Camp
Limpopo Forest Tented Camp
Tshugulu Lodge
Vhembe Wilderness Camp
Mazhou Campaign Site
Guests staying in National Parks accommodation should check in at the Mapungubwe Main Gate when arriving. Most of the Mapungubwe Park accommodation is made up of self-catering, fully equipped cottages or tents.
Some of the camps are only accessible by 4X4 and visitors should check accessibility with their booking agent prior to arrival.
There are no shops in the Mapungubwe National Park and visitors will need to take all of their own supplies including food, sunscreen, hats, binoculars, drinks and firewood.
The Experience
Mapungubwe is a well-kept secret that is definitely worth a visit. The magnificent views across the confluence of the Limpopo and Shashe Rivers will take your breath away, especially when combined with great game sightings of Rhinoceros, Elephants and a variety of buck and other animals. A sunrise guided walk is a fantastic way to explore the reserve while enjoying some game viewing with a knowledgeable and skilled local ranger. Being on the border of three countries; Botswana, South Africa and Zimbabwe visitors should consider combining their visit with a visit to the Tuli block game reserve or the Greater Zimbabwe World Heritage site.
Climate
Mapungubwe National Park is located in a semi-arid area with an average rainfall of 350 - 400mm. Rainfall occurs during the summer months between October to April while autumn and winter (May - September) are very dry and can often be subject to extended periods of drought. Summer can be extremely hot with maximum temperatures during the day soaring to around 40°C. Winters are milder with an average minimum of 1°C and very little frost.
Important Information
Mapungubwe is a malaria area and visitors should take precautions and consult their doctors before visiting the nature reserve. The game reserve is home to the Big Five of the animal kingdom as well as many other large wild animals and visitors should not attempt to access the park or go for walks or hikes without an official guide.
The closest petrol/fuel stations to Mapungubwe are in Alldays and Musina which are both at least 70 kilometres (43.4 miles) away. Visitors should always fill their petrol tanks before departing either of these locations. After rainfall some of the roads may become accessible to 4X4 vehicles only.
Read more on
Visit this Limpopo nature reserve in South Africa and discover the wonders of Mapungubwe National Park for history, wildlife and scenic beauty. Its World Heritage status and beautiful setting make it a winner....
more