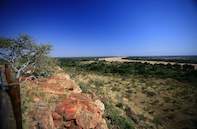 © Jacques Marais
Visit this Limpopo nature reserve in South Africa and discover the wonders of Mapungubwe National Park for history, wildlife and scenic beauty. Its World Heritage status and beautiful setting make it a winner.
Accommodation: Rest camps, bush lodge
Activities: Hikes, walks and trails, tours, guided game drives
Highlights: History brought to life and wonderful scenery
Destination: Northern Limpopo Province, on the South African border
Your Mapungubwe National Park Experience
Positioned at the meeting of 2 mighty rivers and 3 countries, Mapungubwe National Park is a great natural attraction and has always been a place of mystery. This Limpopo nature reserve in South Africa has long been a sought after area, attracting people and wildlife across thousands of years.
Today, you can discover The Lost City on Mapungubwe Hill and learn about what went on there and why this area is so important. Interesting natural habitats host an impressive array of wildlife including Elephant and even Leopard. Game movement between the 3 countries is high but if you are lucky you could see Rhino, Lion and Hyena amongst many other amazing animals.
Scenic landmarks abound including Baobab trees, unique riverine forest and sandstone formations. Outdoor adventures include Heritage Tours, Tree Top Walks and day and night guided game drives. You can also just relax in the shade overlooking the massive Limpopo River and unpack a meal at one of the riverside picnic sites.
The Mapungubwe Interpretive Centre has been voted World Building of the Year in 2009 at the renowned World Architecture Festival Awards. A licensed restaurant now offers a full breakfast and light lunch menu. More facilities are being introduced such as a curio shop, supply store and a riverside tuck shop.