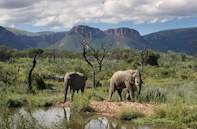 Marakele National Park, a Limpopo Nature Reserve in South Africa, is home to a diverse range of South African wildlife and plant species.
Accommodation: Rest camps, safari lodge with luxury tented suites
Activities: Bird watching, game drives, 4x4 eco trail, bush walks
Highlights: See the world's largest Cape Vulture colony
Your Marakele National Park Experience
Malaria-free Marakele National Park is set in the heart of the Waterberg Mountains in the scenic Limpopo Province, South Africa. Guests can see 4 of the Big Five, abundant birdlife and flora. The Tswana name Marakele or 'place of sanctuary' is a fitting name for this South Africa National Park where guests can enjoy game drives and walks whilst exploring majestic mountain landscapes, grass-clad hills and deep valleys.
Located in the transitional zone between the dry western and moister eastern regions of South Africa, Marakele National Park is a birding haven where visitors can see closely related species alongside one another such as Southern Boubou and Crimson-Breasted Shrike. Perhaps the biggest attraction is the largest colony of Cape Vultures in the world (around 800 breeding pairs).
Marakele is also an excellent place to look for raptors, with many species using the updraft generated off the cliff faces of the Waterberg Mountains to ride thermals. Other species to look out for are African Harrier Hawk, Jackal Buzzard and several eagle species including Verreaux's (Black) African Hawk. A future development will allow visitors access to the many iron-age sites in the park.
This Limpopo Nature Reserve in South Africa is home to Elephant, Black and White Rhino, Lion, Leopard and Brown Hyena. Resident antelope include Sable, Kudu, Eland, Impala, Waterbuck and Tsessebe. Chacma Baboon and Vervet Monkey are two species to be watched carefully for mischief, especially around the rest camps. Nature lovers can also discover the incredible variety of indigenous and rare flora in Marakele National Park.