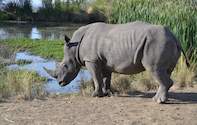 Moholoholo Nature Reserve and Wildlife Rehabilitation Centre in Limpopo, is well situated near the Kruger Park and offers accommodation, wildlife viewing and excursions.
Accommodation: Private lodge, camping, self-catering chalets
Activities: Tour of the Endangered Species Centre, game drives, bush walks
Highlights: Many endangered animals, Cheetah, Wild Dog and species of birds
At Moholoholo guests enjoy a picturesque setting at the base of the Drakensberg Mountains in Limpopo. The Moholoholo Wildlife Rehabilitation Centre, game species and scenic bush setting provide a wonderful getaway or holiday destination.
This Limpopo nature reserve in South Africa hosts a unique habitat for over 300 bird species, including 34 species of Raptors and 5 Primates (amongst them the very rare Samango monkey). Moholoholo offers accommodation with 3 different settings and options - Forest Camp, Ya Mati and Mountain View.
Moholoholo Wildlife Rehabilitation Center in Limpopo is taking care of abandoned, orphaned, injured and poisoned wildlife. Animal species are brought to the centre from all corners of South Africa, and once healthy enough, re-introduced into their natural environments.
Those creatures that cannot be released into the wild because of the nature and extent of their injuries are cared for at the Wildlife Rehabilitation Centre. Another important function of the centre is breeding. The endangered Crowned Eagle, Serval and many others have been successfully bred and released into the wild.
Visitors are able to see the animals and enjoy tours of the facility. This Moholoholo Centre is a non-profit organization, relying completely on the support of the public. Animals in rehab include confiscated Lions from a Mozambique Circus, Leopard, Caracal, Serval, Cheetah, Crowned Eagle, Marshall Eagle, and Vultures.
Respect For Wildlife

Please note no animals undergoing rehabilitation at Moholoholo are shown on tours and there is strictly no interaction with the animals by any visitors or guests. All lions and leopards are either in same sex groups or have been vasectomised.
Wherever possible wildlife at the Moholoholo Rehabilitation Centre are released back into the wild.
The animals you see at the sanctuary are those who are not suited for release for various reasons including imprinting, being hand raised or, having a debilitating injury.
They act as ambassadors for their species to help educate the public about the problems our wildlife is facing and hopefully ignite a passion to help save it.