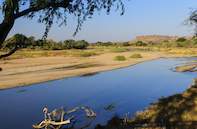 © Roger de la Harpe
Mapungubwe National Park in South Africa is situated at the confluence of the mighty Limpopo and Shashe Rivers. The borders of Zimbabwe and Botswana also meet here at this enigmatic destination.
Steeped in history and rich with wildlife, including 4 of the Big Five and many bird species, Mapungubwe can be reached by car from Polokwane. This Limpopo nature reserve in South Africa is accessible with a regular vehicle but also has numerous 4x4 trails.
When planning your Mapungubwe National Park self-drive holiday it is advisable to fill up your vehicle at Dongola (30km/19 miles), or at Alldays (65km / 40 miles), or at Musina (70km / 43miles), as there are no petrol facilities in the park. The nearest airport is located in Polokwane.
Directions to Mapungubwe National Park, Limpopo, South Africa
By Air
Polokwane airport is about 200km / 124 miles from Mapungubwe National Park.
By Road
From Johannesburg and Pretoria
Option 1
Take the N1 North to Polokwane
In Polokwane CBD take the R521 to Dendron, continue for 40km / 25 miles to Vivo then onto the town of Alldays, drive for another 65km / 40 miles to the Mapungubwe Entrance and Reception.
Option 2
Take the N1 to Polokwane CBD, then travel 107km / 66 miles to Makhado then on to Musina with the N1
From Musina join the R572 and travel for 70km / 43 miles to the Mapungubwe Entrance and Reception
GPS
The co-ordinates for the main entrance gate at Mapungubwe National Park are:
29.40057
-22.24360