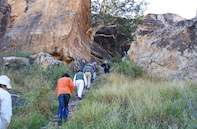 © David Fleminger
You'll find plenty to do on a national park holiday at Mapungubwe National Park. You can explore on hikes, walks and trails or take a guided game drive at sunset or at night. Visit the stunning visitor centre to learn about Mapungubwe.
Pack up a food basket or have a barbeque at the magnificent Confluence view point and picnic site which overlooks the joining of the Limpopo and Shashe Rivers. Your Mapungubwe National Park holiday can be as relaxed or as action filled as you like.
Heritage Tours take in the mysteries of Mapungubwe Hill and surrounds while Tree Top Walks explore the riverine forest and forest canopy from a raised walkway. 4x4 enthusiasts will find about 100km / 62 miles of trails around the national park. Game drives and guided walks traverse game rich areas where you could see big game such as Elephant through to fascinating smaller wildlife.
Mapungubwe bears the signs of human habitation over the last 5 000 years. You can see a stunning legacy of rock art (paintings and engravings) left behind by the San people. Mapungubwe Hill was also at the centre of an ancient African kingdom which prospered for hundreds of years and then, for no reason that can yet be discerned by scientists, it was disbanded and fell into ruin.
Activities
Award-winning Interpretive Centre
Heritage Tours
Tree Top Walk
Rock art sites
Bird watching
Guided walks
Confluence picnic site, tuck shop and skottel hire
Guided game drives (sunset and night drives)
4x4 trails
Route of the Lost Kingdoms (self-drive route in Limpopo)