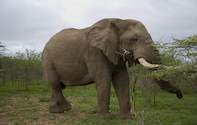 © Roger de la Harpe
Hluhluwe Game Reserve activities include magnificent Big Five safaris, self-drive trails, guided day and night game drives, walks and trails in the wilderness.
On a Hluhluwe Game Reserve safari holiday guests can enjoy game drives in their own cars or guided night and day drives with an experienced ranger. There are also walks and fully inclusive wilderness trails exploring the diversity in wildlife, scenery and landscapes.
Self-Drive safari
These seld-drive trails in Hluhluwe are designed for the convenience of visitors who wish to discover the secrets of the bushveld from the seclusion of their own vehicle on a Hluhluwe Game Reserve holiday.
Self-guided Foot Trails
Three trails are available in the Imfolozi Game Reserve (which is adjacent to Hluhluwe Game Reserve), at Emoyeni Mpila, Enkulu and Masinda Ncane. Guide books are available to assist visitors and to point out places of interest along the way.
Day walks
Short day walks of approximately 2 hours are conducted from Mpila and Hilltop Camps under the supervision of an experienced field ranger. These walks are best undertaken in the early morning or late afternoon and may be booked at reception in both camps.
Picnic Sites
Several sites with ablution and barbeque facilities are situated throughout the park.
Game drives
Open vehicle night and day drives provide visitors on a Kwazulu-Natal holiday in Hluhluwe Game Reserve with unique opportunities for game-viewing. A knowledgeable guide is at hand to answer questions. Enjoy an amazing
Big Five safari in Hluhluwe, South Africa's oldest game reserve.
Wilderness Trails
These trails are offered at the Imfolozi Game Reserve (adjacent to Hluhluwe Game Reserve), and take place from mid-March to mid-December. The 3 day hike in the heart of the 30 000 hectare Wilderness area is an unforgettable experience.
The first and last nights are spent at the Mndindini Trails Camp which overlooks the White Mfolozi River. On the second and third nights, visitors stay in a tented camp in the pristine Wilderness area. An experienced game ranger accompanies visitors on the trail. All food is included in the trail tariff.
Weekend Wilderness Trails
The Weekend Wilderness Trails are great value for money and designed for those unable to find time for the full trail. The trails cost half the price of the traditional trail and run from mid-March to mid-December. These trails give visitors the opportunity to spend 2 nights in a tented camp in the unspoilt bushveld. The trails begin on Fridays and end on Sunday afternoons.