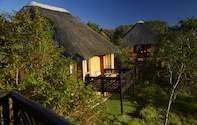 © Roger de la Harpe
Hluhluwe Game Reserve offers a range of Kwazulu-Natal accommodation. These range from luxurious lodges to self catering units.
KwaZulu-Natal accommodation at Hluhluwe Game Reserve includes lovely lodge rooms, self-catering units, chalets and luxury bush lodges where there is a resident chef. Meals are offered in the a la carte Mpunyane Restaurant and drinks can be enjoyed in the attractive pub and lounge.
Hilltop Camp
The award-winning Hluhluwe accommodation in KwaZulu-Natal offers visitors breathtaking views of the surrounding countryside. The oldest camp in Kwazulu-Natal, the Hilltop Camp was rebuilt and enlarged in the nineties, providing accommodation today that ranges from a luxury lodge to self-catering facilities.
The ranges of accommodation at Hilltop Camp in Hluhluwe Game Reserve include 20 two-bedded rondavels (round huts) with communal ablutions and kitchens; 7 two-bedded and 22 four-bedded self catering chalets. Another 20 two-bedded chalets are within close proximity of the main reception area. These chalets are not self-catering. All facilities are serviced daily.
The main reception area includes an a la carte restaurant, an attractive pub and a lounge decorated with memorabilia and photographs of the history of Hluhluwe. There is also a gift shop and convenience store. The Mpunyane Restaurant offers full English buffet breakfast daily with a la carte lunches Monday to Saturday and a hot and cold buffet on Sundays. Depending on the weather, dinners at this Hluhluwe accommodation are either a hot and cold buffet or a traditional barbeque (braai). Dinner arrangements change according to guest profiles and holidays.
Guests at Hilltop also have access to a forest trail. The Hlaza Hide was developed at the site of the old summerhouse in Hilltop Camp and will soon include a waterhole with soft lighting to aid game viewing at night.
Mtwazi Lodge
Close to the renowned Hilltop Camp, Mtwazi Lodge is nestled under a large Sycamore fig and boasts its own secluded bushveld garden. This 8-bed lodge was once the original home of the warden of the game reserve and features memorabilia from Hluhluwe's rich history.
This lodge at Hluhluwe comprises of three en-suite bedrooms and an annex bedroom with its own shower and toilet. A large lounge and dining room leads out into a generous flagstone veranda and a lush tropical garden shaded by trees. Mtwazi Lodge is a self-catering facility and is serviced once a day. Visitors have the option of eating in the camp restaurant.