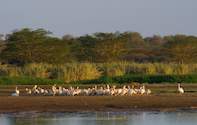 © Roger de la Harpe
Enjoy night game drives and guided walks through the beautiful Mkhuze Game Reserve in KwaZulu-Natal. Spot a huge range of bird species in different habitats or visit numerous hides at strategic points.
Game viewing of big game at waterholes in Mkhuze Game Reserve can be especially good in the winter months (depending on surface water levels). There are 4 hides to choose from which can be reached by car. Photographers will find these facilities ideal for taking great images.
Birding enthusiasts can spend time at 2 hides which overlook Nsumo Pan where water birds are common. Alternately, you can set off in your own vehicle and explore 100km (62 miles) of road routes in the reserve through diverse landscapes.
The Fig Forest Guided Walking Trail is a must do activity in the Mkhuze Game Reserve, or you can opt for a variety of 2 hour walks also with a field ranger. Enjoy a picnic or barbeque at a designated site or if you don't feel like preparing your own meal, you can visit the Rhino Dine-O Take Away which is situated at Mantuma, its open for a couple of hours at each meal time.
Activities
Night game drives
Self-drive routes in the reserve
Game viewing and birding hides (6)
Fig Forest Guided Walking Trail
Guided Day Walks
Mantuma and Nsumo have picnic and barbeque sites for day and overnight visitors