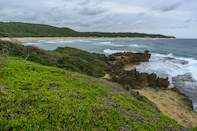 © Roger de la Harpe
Discover Maputaland, one of South Africa's last great stretches of untouched coastline which has many pristine beaches and is home to a vast array of land based and marine wildlife.
Encompassing a vast swathe of Northern KZN, Maputaland stretches from the scenic splendour of iSimangaliso Wetland Park in St. Lucia in the south to South Africa's border with Mozambique in the north.
Enfolded between the azure shimmer of the Indian Ocean in the east and the rugged Lebombo Mountains in the west, the region is blessed with a diverse range of ecosystems and a fitting degree of natural splendour.
Maputaland lies in a transition area between the tropical and subtropical zones, which accounts for its lavish variety of endemic animals and plants. There are also quite a number of KwaZulu-Natal's best known reserves in the area.
The far north-eastern part of KwaZulu-Natal is quite sparsely populated and consists mostly of broad coastal wetland or extensive grass interspersed with ilala palms and stands of softly gleaming fever trees.
Large stretches of water such as St Lucia, Bhangazi and Sibaya and the stunning lake system of Kosi Bay, are home to Crocodiles and Hippos. The whole of Maputaland coastline is a formally protected marine environment.
Warm, tropical waters lap the long, practically deserted beaches where turtles come ashore to breed. Coastal reefs are home to a myriad of iridescent tropical fish and brightly coloured birds flit among the trees.
Much of the area falls under the Greater St Lucia National Park which is supplemented by provincial and private game reserves. The beautiful Kosi Lake System in the far north offers wonderful walking, gentle canoeing and snorkelling. Marvel at the unusual fish traps, which date back hundreds of years.
Take a long walk, a gentle paddle or go snorkelling. Sodwana Bay has a well developed diving infrastructure and the most southerly coral reefs in the world. Accommodation options span the spectrum from simple campsites or backpackers to comfortable hotels and luxury lodges. The nearest listed town is Eshowe and the nearest city is Durban.
Welcome to unspoiled coastal beauty at its best! Set within the iSimangaliso Wetland Park, the Sodwana Bay National Park in South Africa...
more