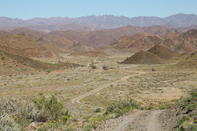 © David Fleminger
The far north-west of the country is very remote and incredibly hot and dry. Classified as succulent Karoo, neatly ranked mountains look pretty barren from a distance. But the truth is very different.
Granted, trees are few, far between and pretty scrubby, but this is one of the most botanically interesting areas with hundreds of species of flowering succulents. And the only standing water is the Orange or Gariep River.
The Ai Ais Richtersveld National Park is one of many National Parks in South Africa but is home to the only true desert in the country. These crystal mountains and granite plains on South Africa's north-west border with Namibia get between 50 and 125mm of rain a year; around half-a-cup.
In contrast, the reserve also incorporates 100 kilometres of the country's biggest river, the Orange (Gariep), which runs like an emerald artery through the thirstlands.
Declared on 20 July 1991, the Richtersveld National Park is a unique model of park management. The park is run as a joint venture between the traditional stock farming community and South African National Parks.
Social upliftment and economic empowerment projects are underway including business training, the establishing of local guesthouses in the area and bringing the dying Nama language back to the school classroom.
So with no shade, virtually no roads and only one, long, linear oasis, the Richtersveld is not exactly an easy place to visit. The best way of seeing it is on an escorted river trip on the Orange River, but you could also do an escorted four-wheel-drive trail. There is a hiking trail but it's not an easy one.