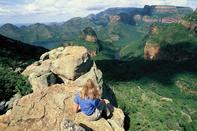 © Justin Fox
Blyde River Canyon.
Much of the interior of South Africa is on a high-lying plateau of over 1 500 metres (5 000ft) above sea level.
The predominant vegetation of the highveld is grassland, interspersed with thorn trees and small pockets of forest in the river valleys.
Many people visit this lovely area just to do sightseeing as it is scenically magnificent. A long drive along the scenic Panorama Route takes visitors to attractions such as God's Window, Bourke's Luck Potholes, Blyde River Canyon, the town of Graskop, the Three Rondawels (three almost circular mountains), the Swadini Dam and the Sudwala Caves can be done comfortably in a day.
Much of the highveld is under cultivation or has been swallowed up by the large urban centres but you will find pockets of relatively unspoiled vegetation. Some of the best places to get away from the cities and back to the veld are the Magaliesberg and Suikerbosrand Nature Reserve, both near Johannesburg.
The Highveld is obviously higher, and also much cooler than the Lowveld. On the opposite side of the Drakensberg to KwaZulu-Natal, it consists of rolling grassland with many wild flowers and pretty streams. Trout has been introduced into some dams and streams in the Dullstroom and Lydenberg areas.
The town of Sabie is a popular tourist destination in its own right and also as a stop-over to and from the Kruger National Park. This whole area has a colourful history, particularly its gold rush era, when lawlessness was the order of the day and brave pioneers wandered through Lion-infested bush to reach their claims. The museum town of Pilgrim's Rest gives an indication of the way of life in those hard days.
Blyde River Canyon Nature Reserve in Mpumalanga, South Africa forms part of the Greater Drakensberg escarpment and features on the scenic Panorama Route...
more