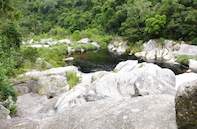 Wilderness National Park, South Africa forms the lower part of the beautiful Garden Route National Park. The closest airport and car hire facilities are in George.
Wilderness National Park in the Garden Route, South Africa is situated close to the N2 highway and Wilderness village, approximately 20 minutes drive from George and the main airport for this region.
The Wilderness National Park, South Africa stretches from the Touw River mouth to the Swartvlei estuary and beyond, linking with the Goukamma Nature Reserve. It gives protection to five lakes and the Serpentine, a winding strip of water joining Island Lake to the Touw River at the Ebb & Flow Rest Camp.
Climate
Nature has blessed Wilderness, Garden Route, South Africa, with a pleasant, temperate climate. This area is unique in Africa as rainfall occurs throughout the year, falling mostly at night. It's the ideal climate for visitors at any time of the year.
Birding
The area is home to a prolific diversity of birdlife which is attracted to the series of lakes and rivers and coastal habitats. Birds found in this area include White-fronted Plover, Great Crested and Black-necked Grebe, Little Egret, White-backed Duck, Purple heron, African Rail and the African Goshawk.
Mammals in the Wilderness Area
Wilderness National Park has a variety of interesting wildlife with even the shy Leopard being spotted on occasion. Visitors can see Bushpig and buck, Honey Badger, Clawless Otter, Grysbok, Rock Dassie, Striped Polecat and the Velvet Monkey, to name just a few.
Garden Route National Park, South Africa
This beautiful stretch of coastline incorporates Wilderness, the Tsitsikamma National Park and the Knysna Lake Area. This national treasure with a mosaic of eco-systems includes the Indian Ocean, beautiful mountain ranges, pristine beaches, rugged cliffs, Cape indigenous forest, Fynbos, lakes and crystal clear rivers.
Directions to Wilderness National Park, Garden Route, South Africa
Wilderness is located 410km (254 miles) from Port Elizabeth and 450km (279 miles) from Cape Town. Please note when visiting Wilderness Ebb & Flow Rest Camp, the road sign on the N2 to the park states 'Wilderness National Park' and not 'Ebb & Flow'. Guests can also use the western access through the town of Wilderness, Garden Route, South Africa, across the rail-road Bridge and then right for the reception. The access road from the N2 is paved but the access from the northern camp is gravelled.