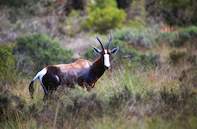 Bontebok National Park in the Western Cape is the smallest in South Africa but has the highest density of rare and endangered bird life, fynbos species and animal life.
Accommodation: Rest camp chalets, guest houses, country lodges
Activities: Game viewing, birding, swimming, canoeing, fishing, hiking
Highlights: Huge displays of unique plant life
This Western Cape Nature Reserve in South Africa was established at the foot of the Langeberg Mountains in order to protect the Bontebok from extinction. It also contains indigenous plant life found nowhere else in the world. Visitors in the Bontebok National Park have access to the lovely Breede River, for angling, canoeing and refreshing swims.
Thanks to the conservation efforts of Bontebok National Park, the species of antelope after which it is named, has been brought back from the brink to roam freely in sustainable numbers. Bontebok numbers have increased from a mere 17 in the park to around 3 000 world wide.
This region between the Langeberg Mountains and the Breede River is also home to around 200 bird species including Stanley's Bustard, Blue Crane and Secretary Bird. Visitors can also see Cape Mountain Zebra, Red Hartebeest and Grey Rhebok amongst other wildlife.
Guests in this Western Cape Nature Reserve in South Africa can enjoy outdoor activities and picturesque views of the mountain or take a short drive into Swellendam. This historic Overberg town has all modern amenities, a great choice of restaurants and there are interesting things to do in the vicinity.
Facilities at Bontebok National Park
Picnic, barbeque and ablution facilities for day and overnight visitors
A shop at the park entrance stocks cool drinks, beer, snacks and curios, etc.