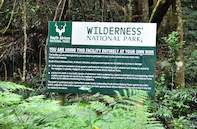 Set in the heart of the spectacular Garden Route, Wilderness National Park is a tapestry of stunning landscapes and diverse habitats for wonderful birdlife.
Accommodation: Rest camp, nearby guest houses and self-catering options
Activities: Hiking, canoeing, mountain biking, abseiling, fishing, birding, paragliding
Highlights: RAMSAR site for birding
Your Wilderness National Park Experience
Wilderness National Park is situated in the heart of the Garden Route, South Africa. It is a fascinating combination of rivers, lakes, estuaries and beaches, unfolding against the backdrop or lush forests and imposing mountains. During spring, the area is beautifully blanketed by a kaleidoscope of colourful blossoms, further enhancing its profound beauty.
The beautiful and popular Wilderness National Park is gently nestled between the bustling towns of George and Knysna - both are exceptional tourist destinations on the Garden Route. Wilderness protects three major zones of indigenous forest, four types of Fynbos (wild shrubs), lakes and winding waterways. There are also a number of historic sites of archaeological significance.
Eilandvlei, Langvlei and Rondevlei are a series of lakes connected by the Touw River. These watery havens host a variety of aquatic species and have been proclaimed as a Ramsar site (wetlands of international importance). Visitors to Wilderness can spot five types of Kingfisher, the Grey Heron and Little Egret and the brightly coloured Knysna Loerie in the forest. This area is also known for the Knysna Seahorse and Pansy Shell.
Wilderness is not only an area of natural beauty it is also an exciting playground for both young and old. Enjoy fantastic Dolphin and Whale sightings from Dolphin Point, hire a canoe or bicycle and explore the area, go abseiling, kloofing and paragliding, boating, fishing and hiking.
Visitors can follow the many nature trails winding through the densely forested areas and along tranquil rivers, spend time at the bird hide or simply enjoy star gazing whilst camping alongside the river in this lush Garden Route Nature Reserve.