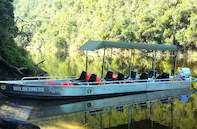 © Mike Raubenheimer
Wilderness National Park activities include exciting hiking, biking and canoeing on nature trails where the brilliantly coloured Knysna Lourie or one of the five Kingfisher species can be seen.
There are a number of exhilarating activities to suit all ages on a Wilderness National Park holiday. Guests can enjoy nature trails and also swimming, canoeing and fishing at the pristine beach or on rivers and lakes. Birding enthusiasts on a South Africa coastal holiday can spend time at the hides located at Langvlei and Rondevlei.
Water skiing is also available, but restricted to Island Lake and Swartvlei. Other adventurous Wilderness National Park activities include mountain biking, abseiling / kloofing and paragliding. In between guests can relax at the Rest Camp where there is communal satellite TV in the lounge as well as table tennis, volley ball and basket ball on the grounds.
There are some historic sites in and around Wilderness National Park from churches and monuments to ancient cave shelters at Ebb & Flow and Oakhurst. These shelters have been excavated to reveal skeletons of Khoi and San inhabitants as well as various implements, animal bones and pottery shards.
Activities in Wilderness, Garden Route National Park, South Africa
Hiking
There are five hiking trails scattered throughout the park, all with varying degrees of difficulty and distances during a South Africa coastal holiday. The longest route is 10km / 6.2 miles.
Canoeing
Canoeing is a great way to experience the area while gently floating away with the current. Journeys start at Ebb & Flow Rest Camp and wind down the Touw River, leading to the Wilderness beach or the Wilderness lagoon.
Mountain Biking
There are two scenic mountain bike routes available in the park. Bikes with child seats are also available.
Abseiling / Kloofing
Abseiling and kloofing are exciting experiences indeed and both are offered in Wilderness.
Fishing
Fishing during a South Africa coastal holiday is allowed in the Leentjiesklip, Kleinkrans, Sandhoogte, Swartvlei, Eilandvlei and Gericke's Point regions of the Wilderness National Park.
Birding
Wilderness National Park, Garden Route is a birding paradise, due to the diversity of ecosystems, ranging from indigenous forest to rocky shore. Don't forget a camera and binoculars.
Paragliding
Experience the complete freedom and exhilaration of soaring through the air with the guidance of experienced operators.
Touw River Cruise
Enjoy a relaxing Touw River cruise that starts at the jetty at Tarentaal day visitor area in Ebb-and-Flow South Rest Camp, then passes Wilderness Rest Camp before cruising down the river to Wilderness lagoon.