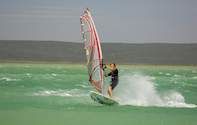 © Justin Fox
The adventure-filled West Coast National Park provides an idyllic escape for nature-lovers and city slickers seeking their next digital detox.
Fabulous Fauna and Flora
The West Coast National Park is filled to the brim with wildlife. While it's not the Big Five, the birds and creatures here are no less incredible to witness. Keep your eyes peeled for anything from tiny duikers, to the twisted horned eland. And if you're lucky, you might even see a few predators like the African wildcat, caracal, and the bat-eared fox. When driving through the park, do remember to look out for angulate tortoises often seen ambling across the roads. If you can time you visit between August to September, you'll get a front row seat to those glorious wildflowers.
Eve's Footprint and Hiking Trails
The most well-known hike within West Coast National Park meanders along a 30km trail following in the footsteps of Eve – a woman believed to have lived roughly 117 000 years ago. If longer, overnight hikes are a bit daunting, you can skip right to it and view her fossilised footprints close to the Langebaan Lagoon.
There are some shorter excursions to consider if you'd like to stretch out the legs a little, like the Bakoor (4.6km) and Steenbok (13.9km) trails. Still to long? Try the easy 1.5km walk in the Tsaarbank region of the park. It will take you to the rusted remains of Pantelis A Lemos, a Croatian vessel that came aground in 1978.
Enjoy the Water!
Frothing to hit the water? Head down to the Langebaan Lagoon with its white sandy beaches and crystal-clear waters. Go for a dip, collect a few shells or don your mask and snorkel and play with the fishes. While it can get quite windy here in the summer, December and January are particularly good for windsurfing, wakeboarding, and water-skiing. This shimmering lagoon is also the perfect place for a 'lekker' beach braai and a perfectly timed sundowner. Keep an eye on the horizon for dancing dolphins and migrating whales arriving from August to September.
Birding on the West Coast
Home to over 250 bird species, the West Coast National Park is like the Holy Grail of birdwatching in the Western Cape. There are four hides inside the park and plenty of hotspots where you too can perch, and pull out the binos and birding book. The lagoon is particularly good for seeking out a few water-loving variants, like flamingoes, Little Egrets, South African Shelducks, and White Pelicans. Black Harriers can be seen surveying the area, along with Curlew Sandpipers, and Bar-tailed Godwits.